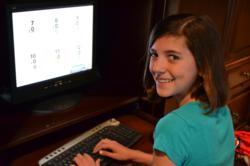 "Great" dvd according to one of the KIDS FIRST! jurors
San Diego, CA (PRWEB) May 26, 2011
Comments that the Steps4Kids to Multiply DVD was "great!" from child jurors coupled with adult reviews that the DVD was a "great asset for children learning or struggling with multiplication" resulted in the coveted "All Star" endorsement from the KIDS FIRST! Coalition for Quality Children's Media, a national nonprofit organization consisting of community based juries of adults and children from diverse backgrounds. The approximately 80 minute DVD breaks down multiplication into easy steps and basic rules incorporating "everyday life and math facts" to teach the times table and basic multiplication properties.
Some of the highlights referenced by the jurors were that the DVD promotes the importance of knowledge, stimulates a young viewer's "mind to think about multiplication in different ways," and uses positive encouragement throughout to help children feel successful. The DVD is designed to allow users to access each number directly with practice tests at the end of each number track to enable teachers and homeschool educators to supplement curriculum with this engaging visual teaching tool. A separate information track offers whiteboard templates, teaching tips and ideas on how to make math fun with fun shortcuts for multi-digit numbers. Another track teaches basic multiplication properties and uses easy-to-remember visuals to help children remember the zero, identity, associative and commutative properties.
The Steps4Kids to Multiply DVD was created by education advocate and parent Lucile Lynch, a two time recipient of a regional award from a 14 school district consortium for "excellence" in supporting students with learning disabilities and their families. "I wanted to create a multiplication DVD that incorporated a wide range of learning strategies so that it could be used in general and special education classes and at home," said Lynch, who has a doctorate and often works with schools to devise creative teaching and learning solutions to help students. "Our DVD products use classroom friendly narration, are reusable and can be readily used on devices already existing in most schools, libraries and homes."
The multiplication DVD is the 4th instructional DVD released by Steps4Kids, LLC since the company was founded in 2005. Prior projects include the Steps4Kids to Write their ABCs (a printing DVD selected by child development expert Dr. Toy as one of the "10 Best Audio Video Products for Children" in 2007), Steps4Kids to Write Cursive (selected as Editor's Choice by the ToyMan® in 2008), and Steps4Kids to Write Modern Manuscript (a printing DVD to help programs using D'Nealian® approach selected as "Media of the Year" by CreativeChild Magazine in 2010). All products are made in the USA. MSRP $19.99 - $24.99.
###