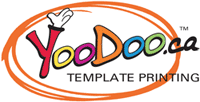 Eliminate the need to source out designers or printers. Create and control your own print -- online and worry-free.
Ontario, Canada (PRWEB) May 30, 2011
The Yoodoo service eliminates the need to source out designers or printers, eliminates the worry of delivery, and allows full proofing and editing right on-screen – all from the convenience of one's own home or business.
Online templates and thousands of colour images are available through an easy-to-use design interface. Clients can design their own professional printing by choosing one of thousands of colour templates or they can upload their own graphics or logos – giving them complete control right from their own computers. After setting up the design, customers proof their set-up, edit until totally satisfied and submit for print and delivery.
In celebration of the site launch, two additional promotions are also on offer: a free business card holder is available with every business card purchase (no matter the quantity ordered), and free shipping across North America is also available on most products.
The Yoodoo partners bring 35 years of experience to this web-to-print solution and they love what they do. "We want to provide the best quality print and service, no matter where you are located. If you have a computer, you can design your own print," says Karen Clarke, Principal and Client Liaison for Yoodoo. "We believe in empowering our client. The interface is easy-to-use, the print-quality and care taken with your order is top-notch, and most of all, it's cost-effective and delivery is right to your door. We are proud of our service and we know that clients will be proud of their finished product too."
To support their clients, the Yoodoo website features FAQs, design tips and testimonials, as well as helpful "Yoodoo Tips" and informative descriptions on every single one of their products: full colour custom business cards, postcards, laser-safe letterhead, custom post-it® notes, self-inking stamps and much more.
Their slogan says it all: "You choose. You order. We print. We deliver. It's that simple!" And it really is.
Note to Editors
Yoodoo Template Printing is an online printing service for those who seek quality and control right from the convenience of their own home or office -- perfect for small businesses, those far from urban centres, and those who want cost-effective management of their own print.
Specializing in custom full colour business cards, postcards, magnetic business cards, laser-safe letterhead, custom post-it® notes, self-inking stamps and more, Yoodoo is a cost-effective colour print company with an online solution for the busy professional.
For more information about Yoodoo and its services, visit: http://www.yoodoo.ca or contact info(at)yoodoo(dot)ca
SOURCE Yoodoo Template Printing.ca Inc.
# # #