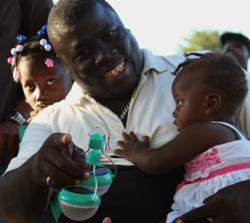 To bring the lights out there, and see the immediate difference, it's incredible - LEAH QUINTAL, American Green International
Denver, CO (PRWEB) May 31, 2011
If you want to eliminate the darkness of poverty, start by eliminating the darkness.
These are the words that inspired a team from American Green International, who took more than 200 Nokero solar light bulbs to Haiti one year after the devastating earthquake rocked the Western Hemisphere's poorest country.
What they found there – in the streets and in a tent city in Port-au-Prince - was even worse than they had imagined. Complete darkness descended on the city at night, leaving its residents helpless and unsafe in the dark, unable to see one another, help one another, cook, clean, or even go to the bathroom.
"To bring the lights out there, and see the immediate difference, it's incredible," said Leah Quintal, of American Green International, who has been to Haiti and seen the difference a Nokero solar light bulb can make.
Those who receive a durable, rainproof Nokero solar light bulb see their lives instantly changed. With more time in their day, they are more productive. The $8 US they save each month gives them much-needed money they can spend on food and medicine for their families. With six hours of light per night from their Nokero bulb, their cooking, cleaning, and chores can be done in the evening, leaving more time in the day for work. Perhaps most of all, they feel safer in the dangerous dark of night.
The team saw a tremendous need for solar light, and vowed to return with 1,000 Nokero solar light bulbs to light the entire tent city.
That is why Nokero and American Green are partnering in the Gift of Light for Haiti program, where people can donate solar light to Haiti at GiftOfLightForHaiti.com.
(The project is one of many Nokero projects under way globally - for more information contact Tom Boyd.)
In Haiti's tent cities, what light there is usually comes from kerosene – a dangerous and polluting fuel. More than 1.6 billion people worldwide live without access to electricity, and more than 2 billion more only have intermittent electricity. With no other option, they are forced to buy expensive kerosene, a fuel which leaves black soot in their noses and lungs, and collectively emits 190 million tons of carbon dioxide each year (the equivalent of 30 million cars).
About Nokero
Nokero (short for No Kerosene) was formed in June 2010 by inventor Steve Katsaros to develop safe and environmentally-friendly solar products that eliminate the need for harmful and polluting fuels used for light and heat around the world, and, most importantly, are affordable to the communities that need them.
The light bulb is a shape known around the world. The Nokero solar light's unique bulb shape, its simple yet durable design, and its affordability mean the Nokero solar light bulb is humanity's best chance at ending the practice of burning kerosene.
Also visit us on Facebook and YouTube.
Media Contact:
Tom Boyd
tom(at)nokero(dot)com
(800) 991-1950 x1
nokero.com/media
###