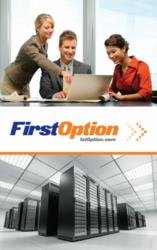 "First Option was looking to expand its product offerings and the DAPREX opportunity was ideal for us"
(PRWEB) May 27, 2011
First Option is pleased to announce it has acquired the rights to the DAPREX financial software suite.
The suite is an integrated financial software solution deployed on the IBM iSeries platform. It is available for on-site installation and/or used in a hosted environment. The suite of products include; General Ledger, Accounts Receivable, Accounts Payable, Payroll, Purchasing, Fixed Assets, Order Entry/Billing and Inventory.
First Option has been a business partner with DAPREX for the past twelve years and originally created the ASP hosting solution for DAPREX customers who wanted to remain on their software but get off the iSeries platform. Most recently First Option created WebCheck by First Option which enables those using the DAPREX payroll software to view and print check information online.
"First Option was looking to expand its product offerings and the DAPREX opportunity was ideal for us," says President Paul Fuller. "We already have a great relationship with many of the DAPREX customers and a working knowledge of the software." "Over the past sixteen years our team has rewritten entire applications and integrated third party packages. We are excited to take the DAPREX suite to the next level as well as continue the commitment to excellent support and service. "
First Option, Inc. was founded in 1995 in order to provide contract and custom programming services. Sixteen years later, First Option continues to provide top notch consulting while also offering additional services to accommodate the growing needs of our customers and to keep pace with new technologies.
First Option is committed to cloud technology with our iseries hosting services and will continue to enhance our offerings in this hot new area. We have been an IBM Business Partner for the past 14 years as a Value Added Reseller (VAR) and can provide new and used iSeries equipment as well as hardware and software maintenance contracts. We also offer the software services iSeries WatchDog by First Option and WebCheck by First Option.
###