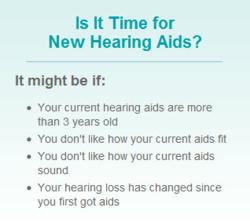 Get a hearing test during Better Hearing Month
Eden Prairie, MN (PRWEB) May 27, 2011
Individuals who recognize hearing loss on their own, and take the initiative to get help are to be congratulated. Early treatment for hearing loss is the key to maintaining quality of life and full earning power. But like any investigative process, it's nice to have a road map to help guide the way.
The most important first step in the process of buying hearing aids is to see a licensed and certified hearing professional like an audiologist, hearing aid dispenser or hearing instrument specialist for a thorough hearing test and evaluation. (General practitioners typically do not perform comprehensive hearing tests.)
If medical problems are suspected, the patient will likely be referred to an ear nose and throat doctor or ENT for a medical examination, but for most patients, an audiological exam is the ideal way to determine the type and severity of hearing loss.
Some individuals may wish to skip the all important medical examination, but it is the only way to accurately diagnose hearing loss and recommend an appropriate treatment. The patient may end up with hearing aids that are too weak (or too powerful) for their type of hearing loss, and may also spend too little (or too much) on hearing aids that just aren't right for their condition.
Hearing-Aid.com recommends that consumers do their homework before settling on a hearing aid dispenser or other hearing health care provider who can fit and sell hearing aids. Each hearing care provider should be able to provide information about their qualifications. Hearing-Aid.com can also provide information about authorized hearing aid dealers, and can put consumers in touch with a hearing specialist in their area.
The most effective conversations between patients and health care providers are based on a series of questions and answers. Hearing-Aid.com and the National Council for Better Hearing have developed a list of questions to ask about hearing aids. The list is ideal for anyone investigating hearing aids for the first time.
If you haven't yet had your hearing tested during Better Hearing Month, make an appointment for a hearing evaluation today. For more information about making an educated hearing aids purchase, visit http://www.Hearing-Aid.com
###