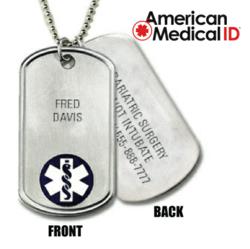 It is VHA policy that medical ID bracelets and jewelry must be available... for veteran patients whose pertinent medical information would be valuable to emergency medical care providers.
Houston, TX (PRWEB) May 26, 2011
"There is a huge population of veterans who are suffering from diabetes, seizure disorders or taking a blood thinner like Coumadin for a heart condition. Providing these American heroes with medical ID bracelets or dog tags delivers some peace of mind that, in an emergency situation, medical responders will know their condition and be able to provide the correct, life-saving treatment. I'm glad that American Medical ID is working to promote awareness of the VA Directive ensuring medical IDs to vets in need," said veteran advocate and Iraq war veteran Isaac Morton.
American Medical ID is currently working with VA organizations across the nation as a registered supplier of customized medical IDs. They are working to help VA organizations with process and ordering procedures. To date, American Medical ID has provided medical ID bracelets/necklaces to thousands of veterans.
VA Directive states: "It is VHA policy that ID bracelets and pendants must be available, upon appropriate request by the Department of Veterans Affairs clinicians through Prosthetics Service, for veteran patients whose pertinent medical information would be valuable to emergency medical care providers."
The full VA directive can be found at: http://www.AmericanMedical-ID.com/extras/VA.php
About American Medical ID
Since 1994, Houston-based, employee owned and operated, American Medical ID has created high quality, customized medical identification jewelry to meet one's everyday lifestyle. The medical IDs are available with various styles of bracelets, necklaces, and sports bands, in gold, gold-filled, sterling silver, stainless steel, titanium and nylon. Each ID is custom fitted and personalized with complimentary engraving. Candidates for a medical ID include anyone living with chronic or rare medical conditions such as diabetes, asthma, heart conditions, stroke risk or memory impairment; persons with allergies such as food, drug or insect; and those taking multiple medications or blood thinners. For more information about American Medical ID, visit http://www.IdentifyYourself.com, email info(at)americanmedical-id(dot)com or call 800.363.5985.
###