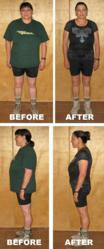 By mimicking the physical activity of cowboys, people who come to our adult fitness camp can shed both pounds and inches.
Bandera, TX (PRWEB) May 26, 2011
Overweight people all over America have secret hopes of being chosen for the next fitness ranch reality show to help them shed unwanted pounds. Although the average obese person has little chance of a starring role on reality TV, an adult fat camp is now within reach to Joe and Jane American.
Rancho Cortez Fitness Ranch offers the same sort of all-inclusive, results-based weight loss program as seen on television. "The reason cowboys are fit is because of the physical nature of their day-to-day work," says Mary Cortez, owner of the Rancho Cortez Fitness Ranch. "By mimicking the physical activity of cowboys, people who come to our adult fitness camp can shed both pounds and inches."
Guests at Rancho Cortez Fitness Ranch participate in everything from hillside hikes and trail rides to weight lifting and water aerobics. There are a variety of classes, instructors and activities to appeal to guests of all fitness levels. There is even a cowboy boot camp class that mimics the hands-on hard work that cowboys do every day. Although physical activity is paramount, they also address food intake. Each meal is carefully crafted to ensure proper nutrition in a calorie-controlled environment.
The unique cowboy fat farm doesn't just focus on food or activity, though. They also address the more delicate mind and body connection of being overweight. "Many times, overeating is a symptom of a deeper issue," says Cortez. "We know that unless we give our guests other tools to cope with life's issues, they'll just revert back to their former behavior once they leave the ranch."
Rancho Cortez Fitness Ranch has a program that fits a variety of fitness goals and budgets. For those who just want to kick-start their fitness regime, a week at the adult fitness ranch will give them the tools they need to continue making changes on their own. For others with greater weight loss goals, the 30-Day Fat Farm Challenge can help implement a serious change. They even have a work program for those who are need a bit of help paying for the program.
Over 500 participants have already been through the fitness ranch program over the past six years. Some have lost a few pounds in a kick-start program, while others have lost over 100 pounds over the course of several months.
Rancho Cortez Fitness Ranch is located on 250 acres and nestles against a 5500-acre state park with 40 miles of hiking trails. For more information, visit http://www.ranchocortez.com or contact Mary Cortez at 830-796-9339.
###