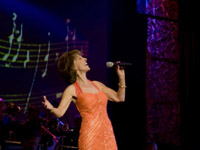 Deana has such wonderful voice and is a perfect fit for the standards. Her
music puts a smile on your face and makes you feel good! Her Dad would
be very proud!
- Ed Lauter, Actor & Producer
Hollywood, CA (PRWEB) May 26, 2011
Internationally acclaimed singer and entertainer, Deana Martin, will be resuming her successful tour, "Deana Sings Dino", in honor of her legendary father, Dean Martin, .
The show marks a return engagement of her many sold-out performances since last summer at Feinstein's. Deana opens her summer tour at Festa Italiano at Zona Rosa in Kansas City, MO. The musical extravaganza highlights Deana performing many of her father's greatest and most enduring hits, including "Memories Are Made of This", "That's Amore", "Everybody Loves Somebody", and more. As an added bonus, there's a video montage with exclusive home movies and photos from the Martin family archive, that takes the audience on a musical journey of intimate moments that include a tribute to her father and other great performers who helped shape American music and popular culture.
The show will also feature songs from her latest hit CD, "Volare" which was the culmination of three years of hard work, and a labor of love. It was recorded at Capitol Records, with a proverbial A-Team of Multi-GRAMMY™ Award winners as Deana's supporting cast and includes songs such as fan favorite and radio friendly, "Please Don't Talk About Me When I'm Gone", "Return To Me" as well as the title name, "Volare."
The summer tour is but part of the big picture as Deana continues to record and tour internationally to sold out crowds with The Orlando Philharmonic, The Nashville Symphony, The Suncoast Casino in Las Vegas, San Francisco's famed Rrazz Room in the Hotel Nikko and the Catalina Jazz Club in Hollywood, among other venues.
Notable Quotes About Her Show and Music:
"If you're a Dean Martin fan like I am, you will be thrilled to hear the charm and sophistication of his daughter Deana, elegantly sing these classics".

Bonnie Hunt, Emmy nominated Actor/Writer/Television Host.
"Deana cements the notion that the leaf does indeed not fall far from the tree. The beat goes on, and it's carried by the vocal stylings of a tremendous artist in her own right, an heir apparent to one of the legends of entertainment."

Joe Mantegna, Tony and Emmy winning actor
"Deana has such wonderful voice and is a perfect fit for the standards. Her music puts a smile on your face and makes you feel good! Her Dad would
be very proud!"

Ed Lauter, Actor & Producer
"Your performances were beautiful, elegant, respectful to musicians, funny, compelling, historical and vocally impressive. You enthralled our audience with your music making and storytelling. You possess unique qualities that are a delight to all. You are truly an enchantress!"
-David Schillhammer, Executive Director, Orlando Philharmonic Orchestra
The tour dates for "Deana Sings Dino" are listed below. Additional dates to be announced as cities and venues are confirmed.
2011 "Deana Sings Dino" Summer Tour
June 4 - Fiesta Italiano, Kansas City, MO (Zona Rosa)
June 12 - Newark, OH (Midland Theater)
June 14 - Bellafontaine, OH (The Holland Theater)
June 16 - Wheeling, WV (Capital Theatre)
June 16-19 - Dean Martin Festival Steubenville, OH
June 19 - Washington, PA (The Meadows Racetrack & Casino)
June 25 - Warren, MI (Andiamo Celebrity Showroom)
For more ticket information on specific tour dates, please visit the Deana Martin web site at http://www.DeanaMartin.com .
ATTENTION MEDIA: Deana Martin is available for interviews prior to the particular engagement PRINT MEDIA: Advance phone interviews can be scheduled. Photos of Deana and her Electronic Press Kit are available by contacting Jim Raposa at Great Music Promotion in Atlanta, GA.
# # #