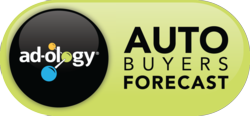 American automakers and the auto industry as a whole are poised for a comeback, and recent near record high gas prices have significantly upped the interest in compact, hybrid and electric cars.
Westerville, OH (PRWEB) May 25, 2011
Consumers considering a new car purchase are interested in fuel economy, and interest in American brands is up, according to Ad-ology Research. Nearly 35% of U.S. adults said they intend to buy a new or used car in the next 12 months.
According to the Ad-ology Auto Buyers Forecast, after purchase price, gas mileage/fuel economy is the most important factor in a new car purchase decision. Nearly one-third of consumers said the need for better gas mileage triggered their desire to buy a new car.
Nearly half of car shoppers in the May 2011 study said they are considering buying a Ford, up from 35% who said the same in January 2011. Honda, Toyota, Chevrolet, and Nissan round out the top five brands (in order) being considered.
"American automakers, just as the auto industry as a whole, are poised for a comeback," said C. Lee Smith, president and CEO of Ad-ology Research. "Recent near record high gas prices have significantly upped the interest in compact, hybrid and electric cars," Smith said.
Smith also pointed out that smartphones are increasingly important in the buying process. Consumers report using a smartphone to: Compare pricing (53.1%), take photos of a vehicle under consideration (41.2%) and view a dealership's website (33.3%).
Other key findings from the study:

More than half of consumers contemplating a new car purchase consider themselves technology lovers.
Nearly three quarters of consumers said 'willingness to negotiate' is very important in their choice of a dealership.
37.7% say the 'best cars and trucks' are American brands, and 28.5% said they try to 'buy American' whenever possible.
Hyundai and Kia have made big gains in brand consideration since January 2011.
The study was conducted in May 2011 by Ad-ology Research to analyze the demographics, psychographics and advertising attitudes of future auto buyers. The Auto Buyers Forecast: New Car Buyers report is currently available for $795 through the Research Store at Ad-ology.com. Future reports will be released in coming weeks: New Truck Buyers, New Hybrid/Electric Car Buyers, New SUV/Minivan/Crossover Buyers, and Used Car/Truck Buyers.
About Ad-ology Research
Ad-ology Research analyzes key marketing and advertising trends in over 440 industries and what motivates end-customers. The company's research is used by over 2,000 advertising agencies, media properties, local governments, and product marketing departments across the United States.
Ad-ology Research is a division of Sales Development Services (SDS), Inc. - a Westerville, Ohio firm founded in 1989. SDS also provides: AdMall, the leading local media advertising sales development system, and a daily compilation of industry forecasts at MarketingForecast.com.
Methodology
Ad-ology Research surveyed an online panel of 5,921 U.S. adults in May 2011. The margin of error for this survey is +/- 2.32 percentage points.
Editor's Note: The Ad-ology trade name should be hyphenated in all printed references.
###