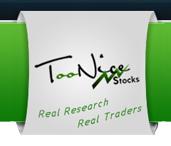 With ASCO coming in June TooNiceStocks anticipates AEZS-108 Phase 1/2 data on refractory bladder and prostate or Perifosine Phase III X-PECT interim data will be released.
New York, NY (PRWEB) May 26, 2011
Aeterna Zentaris is a late stage oncology drug development company with numerous upcoming milestones and catalyst. TooNiceStocks research found their pipeline includes Perifosine, Solorel, and AEZS-108, each with multiple indications. Perifosine has a Special Protocol Assessment (SPA) Phase III X-PECT trial in metastatic colorectal cancer and is expected to be completed in the second half of 2011. Solorel, a diagnostic for growth hormone deficiency in adults, will have a completed (SPA) Phase III and eventual filing of a New Drug Application this year. AEZS-108 a cytotoxic peptide specific to tumors expressing luteinizing hormone-releasing hormone (LHRH) receptor will initiate its first pivotal trial for endometrial cancer. Other indication for AEZS-108 includes refractory bladder and prostate. Previous years Aeterna has release clinical data at the American Society of Clinical Oncology (ASCO) conference. With ASCO coming in June TooNiceStocks anticipates AEZS-108 Phase 1/2 data on refractory bladder and prostate or Perifosine Phase III X-PECT interim data will be released.
Digging Deeper into the potential pipelines:
TooNiceStocks research has uncovered that AEZS-108 is a synthetic peptide conjugated to a chemotherapeutic agent, doxoburicin. Its novel properties allow specific targeting to cancer cells. The cytotoxic peptide targets LHRH receptors expressed in ovarian, prostate, bladder, breast and other tumors. It binds to the receptor and internalizes the drug, allowing accumulation of the chemotherapeutic agent. This modality allows AEZS-108 to be more effective at a lower dosage and because of its specificity to only cancerous cells it offers a better safety profile and less toxicity. Aeterna is currently conducting clinical trials for the usage on ovarian, endometrial, bladder and prostate cancer expressing LHRH. Clinical trials were first initiated on ovarian and endometrial cancers patients with Phase II data released last year. Since AEZS-108 binds to LHRH receptors present only in a subset of certain cancers that data can be used as a guideline for AEZS-108's other indication. Both ovarian and endometrial arms met its primary endpoints. It was well tolerated with minimal toxicity and side effects. Treatment of Ovarian cancer resulted in a Clinical Benefit Rate (CBR) of 38%. Median time to progression and overall survival were 3.5 months and 15.6 months, respectively. Treatment of Endometrial resulted in a CBR of 74.4%. Median time to progression and overall survival were 7 months and 14.3 months, respectively. TooNiceStocks research believes because AEZS-108 treats a subset of a cancers similar positive result will most likely be produced in the bladder and prostate trials.
TooNiceStocks research also uncovered Perifosine is an oral anti-cancer treatment that inhibits Akt-mediated signaling as well as JNK and MAPK pathways amplifying the effects of programmed cell death. Perifosine also preferentially disrupts proliferating cells therefore minimizing toxicity. Numerous trials are currently being conducted using Perifosine as a single agent or in combination with other chemotherapeutic agents for various indications. Majority of the trials are yielding positive result and Phase III X-PECT trial might expect no different. The primary endpoint for the X-PECT trial is overall survival whereas it was the secondary endpoint in its previous Phase II trial. In the Phase II trial Perifosine + capecitabine arm demonstrated a statistically significant advantage, with a greater than 60% improvement, in overall survival compared to capecitabine alone. It is indicative Phase III X-PECT data will likely met its overall survival primary endpoint. Perifosine has the potential to be a blockbuster drug with partners in North America, Korea and Japan and Aeterna retaining the rest of the world rights. The partnership gives Aeterna free access to all data, as well as milestone and royalties payments.
TooNiceStocks in house biotech expert states that, "Aeterna is a revenue generating company that has many upcoming milestones. They have a deep pipeline and sufficient cash at hand to continue advancing their drugs through clinical trials. Although the potential for Perifosine is enormous in of itself. Average price target from analysts give Aeterna $4.00+ and from the bullish technicals, Smallcap investors are listening to them. But always remember this is the market and anything can happen."
Thanks,
http://www.TooNiceStocks.com
"Finding Value in the Undervalued"
About TooNiceStocks.com - Sign up now for free weekly technical and research reports. We work hard in researching promising companies in all exchanges. Please add or follow us for daily chatter. Join our premier membership now. Real Research for Real Investors.
TooNiceStocks.com in no way has been compensated for advertising, marketing or profiling Aeterna Zentaris Inc., rather we have initiated our own independent research and own no shares. The data stated in our research article is derived from publicly disseminated information. None of the profiles issued by TooNiceStocks.com, constitutes a recommendation for any investor to purchase or sell any particular security or that any security is suitable for any investor as these are our opinions. Any investor should determine whether a particular security is suitable based on the investor's objectives, other securities holdings, financial situation needs, and tax status. Examples presented on TooNiceStock.com website are for educational purposes only. Such set-ups are not solicitations of any order to buy or sell. Accordingly, you should not rely solely on the Information in making any investment. Rather, you should use the Information only as a starting point for doing additional independent research in order to allow you to form your own opinion regarding investments as these are our own opinions. Please note well that TooNiceStocks.com employees are not Registered as an Investment Advisor in any jurisdiction whatsoever. For full disclaimer, please visit http://www.TooNiceStocks.com.
###