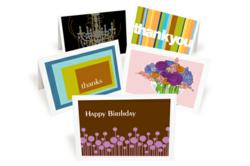 It's nice to know that the act of sending a handwritten note is still appreciated.
Philadelphia, PA (PRWEB) May 26, 2011
Fabulous Stationery, the online printing giant with the personal touch, has once again set out to offer products and services at prices that cannot be beat by the competition. Whether its personalized note cards, personalized greeting cards, social business cards, or their brand new photo cards, Fabulous Stationery has the cards you want at prices you can afford. All of this is on top of the recent launch of their One Dollar Greeting Card Shop. The new online store offers modern birthday, thank you and all-occasion greetings for $1 per card with no minimum order. Shipping is only $1 and is fixed price for any quantity within the continental U.S.
The idea for the new One Dollar line came from the owners' desire to offer style and convenience at an affordable price. Jay Arnold, innovator and co-founder of Fabulous Stationery points out, "Fabulous design doesn't have to cost a fortune, and a really chic birthday card for a buck is what makes our One Dollar Greeting Card Shop truly fabulous."
The One Dollar line is designed by Trish DeMasi, co-owner and exclusive designer for Fabulous Stationery. "It's nice to know that the act of sending a handwritten note is still appreciated," says DeMasi, whose love of mid-century-modernist style is reflected in her distinctive designs. Speaking of her creative influences, she notes that, "My inspiration comes from so many things: fabric, fashion, nature, and architecture."
Fabulous Stationery has also unveiled new pricing on shipping. In addition to the $1 shipping on all items in the One Dollar Greeting Card Shop, they are now also offering $5 flat rate shipping on all domestic orders. So whether ordering personalized holiday cards, notes, invites, announcements, or any other product, the customer can select USPS flat rate economy shipping at checkout, and pay just $5.
And COMING SOON from Fabulous Stationery, a new line of personalized photo cards, which will combine modern designs along with customer photographs and are perfect for baby announcements, birthday invites or any special occasion. Customers can choose a style, personalize the text and upload photos, and Fabulous Stationery's online wizard will do the rest with picture perfect results. Photo cards are coming soon, so check back in the coming months at http://www.fabulousstationery.com/.
Since 2004, Fabulous Stationery has been creating personalized, modernist-inspired designs for a versatile line of note cards, modern invitations, and social business cards. Co-founded by marketing veterans Jay Arnold, Trish DeMasi and Bruce Campbell, and designed exclusively by DeMasi, the line has caught national attention in Time Magazine, Marie Claire, In Style Weddings, Life & Style Weekly, Flare, Better Homes and Gardens Decorating, Cottage Living, The Nest, and Out Magazine. Recently, FabulousStationery.com was featured on DailyCandy.com, mentioned in the December 2011 issue of Pregnancy and Newborn magazine, and included in Architectural Digest's "Great Design Under $100".
# # #