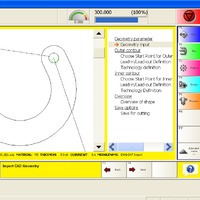 Florence, SC (PRWEB) May 27, 2011
ESAB Welding & Cutting Products introduces EasyShape™ Part Program Generator, an integrated shape library and post-processor system built into its Vision T5 CNC. As an integrated feature of the Vision T5 CNC, the EasyShape system functions as more than just a shape library. EasyShape includes the ability to import DXF and DWG files and then automatically post-process them to create optimized part programs that are ready to cut. In addition to basic part generation capabilities, EasyShape automatically applies ESAB's Precision Hole Technology™ to plasma cut small holes, making it easier than ever to produce the highest quality plasma cut parts.
EasyShape includes an advanced shape library with 88 pre-designed variable size shapes. These shapes can quickly be adapted to create a variety of part programs by entering the desired dimensions using the touch-screen keypad. Lead-ins & lead-outs are automatically generated based on material type and thickness, but can also be manually customized if desired. The resulting part programs will also have all necessary process automation codes embedded, so process setup is completely automated, and operator mistakes are eliminated. If a part is to be cut using plasma on carbon steel, Precision Hole Technology will be automatically applied to small holes wherever possible. This lets machine operators quickly and easily produce the best possible plasma cut holes right at the machine without manual intervention and without requiring off-line programming software or using an office PC.
In addition to the shape library, EasyShape includes a CAD import capability. Operators can directly import CAD files, which will be post-processed into optimized part programs, without any programming or manual intervention required. EasyShape automatically adds lead-ins/lead-outs based on material type and thickness. All lead-in and lead-out technology is added automatically based on the operator's selection of material type, thickness and cutting process. When cutting carbon steel using ESAB's m3 Plasma™ system, ESAB's Precision Hole Technology is automatically applied to small holes and slots. Parts can be imported from DWG or DXF format. EasyShape permits post-processing of CAD files right at the machine, eliminating the need to purchase off-line programming software in many applications. For small shops that prefer to have the machine operator also do the programming, EasyShape makes the job easier than ever.
EasyShape's easy-to-use Wizard interface takes only minutes to learn, with no CAD or programming experience required. The EasyShape feature is integrated with the Vision T5 CNC and uses a common Wizard interface with simple, guided, step-by-step operation. Even an untrained operator can learn to use EasyShape in just a few minutes.
ESAB Welding & Cutting Products is one of the world's largest and most knowledgeable manufacturers of welding and cutting equipment and welding filler metals. Recognized as the technological leader in the industry, ESAB is committed to providing customized solutions for its customers. For more information on these products, visit http://www.esabna.com, http://www.esab-cutting.com or call 1-800-ESAB-123.
###