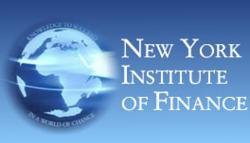 New York, NY (PRWEB) May 26, 2011
The New York Institute of Finance announced today that it will host, for the first time, the Online Bank Management Contest (OBMC) 2011 Final in August at NYIF's New York headquarters.
Developed by SimArch, a provider of financial learning solutions, the OBMC consists of three uniquely choreographed training days, during which participants role play in teams as banking employees working at FirstB@nk, a simulated, full-service bank. Teams are immersed in banking activities, engaged with various banking products and services, and presented with economic challenges that they must complete together. Each team receives a realistic duplicate of the banking environment in their particular region, and are challenged to manage the bank through six hypothetical financial quarters.
Following four regional OBMC online "heats" – the Americas, Africa, Asia Pacific, and Europe – the winners in the contests for each geographic area join together to compete in New York City for the Global Final.
"We are looking forward to beginning this creative partnership with SimArch," said Patricia Sparacio, Managing Director, NYIF. "NYIF is always looking for innovative ways to develop top talent, and OBMC presents a unique opportunity for many of our clients to truly test themselves against fellow bankers in a global competition."
"The NYIF brand complements our existing partners, organizations that provide exceptional learning solutions to clients in the Financial Services sector," said Ziegfried Vermaak, Chief executive Officer, SimArch. "We look forward to working with them toward the culmination of this year's OBMC."
For more information on NYIF, visit http://www.nyif.com.
For details on the OBMC, visit http://www.simarch.com/obmc
About NYIF
Started in 1922 by the New York Stock Exchange, the New York Institute of Finance is the premier financial training organization, serving clients globally. We offer exam prep and over 300 courses in accounting and tax, core finance concepts, corporate finance, credit risk, derivatives, financial modelling, fixed income, investment and portfolio management, mergers and acquisitions, operations and compliance, professional skills, project finance, risk management, core skills analyst programs, wealth management programs, structured products, and technical analysis and trading that are delivered through instructor-led classroom experiences, elearning and our new virtual classroom. The New York Institute of Finance is part of Pearson (NYSE: PSO), the global leader in education and education technology. NYIF celebrates its 90th anniversary in 2012.
About SimArch
SimArch was founded in 1999 by CEO Ziegfried Vermaak. The initial focus of SimArch was the use of customised simulations as a part of training programmes within a bank. Since 2002 they have developed core competencies in the area of Asset & Liability Management and have assisted banks with the implementation of best practice processes. Since 2007 they have been running online bank management competitions as an alternative form of learning among banks internationally. To date SimArch has delivered workshops, training programmes and consulting projects in more than forty countries. This exposure has provided them with the opportunity to ensure that their product and services offering is current, applicable and interactive.
Contact:
Rod Granger
Pearson
(800) 745-8489
rod.granger(at)pearson(dot)com
###