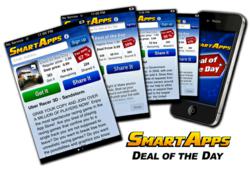 Jacksonville, FL (PRWEB) May 27, 2011
Developers now have a new tool to help get their apps discovered. Smartphones Technologies launched SmartApps Deal of the Day, a new service that features special discounts on Android and iPhone apps every day. SmartApps Deal of the Day apps are live in the iTunes App Store or Android Market. Customers can also go to "SmartAppsDeals" on Facebook or Twitter, or visit http://www.SmartApps.com.
"As developers, we understand the time, effort and money it takes to produce a high quality app," said Merrill. "We also know how frustrating it is to have your app lost in a crowded marketplace. SmartApps helps developers get their apps discovered."
Some apps featured in SmartApps Deal of the Day include: Start-up Checklist (EO Venture Partners), FaceFighter Gold (Appy Entertainment), Pregame (Patrick Woodard), Mobitee (Mobitee), UberRace3D-Sandstorm (MadProcessor Games), Trip Journal (iQapps) and Kettlebell Fitness (Vook). Developers can submit their apps for consideration at http://www.SmartApps.com/developers.
"The SmartApps team is working hard to address one of the biggest issues facing developers in the Android market today -- app discoverability," said Paul O'Connor, Brand Director of Appy Entertainment. "We look forward to partnering with SmartApps Deal of the Day to improve the visibility of FaceFighter and our upcoming games on the Android platform."
"Mobile apps have become a league of their own these days, with hundreds of thousands apps on various stores," said Valentin Vesa, Community Manager for iQapps, developer of the award-winning Trip Journal app. "This is why we will always welcome anything that focuses on selecting the best apps for specific needs and user types, and this is what SmartApps will do. Finding the best app suited for one's specific needs and budget is an asset any user will strongly appreciate."
SmartApps is waiving the fee initially, so there is no cost for developers to participate at this time. Furthermore, developers have complete control of the offer. They can select the discount they'd like to offer and the duration of the deal.
About Smartphones Technologies
Smartphones Technologies is a leading mobile application publisher specializing in mobile apps with dynamic content. Smartphones Technologies has developed apps for leading brands like NFL, MAXIM and more than 85 universities. Founded in 2002, Smartphones Technologies is based in Jacksonville, FL and is privately held. For more information, please visit http://www.smartphonestech.com. For more information on SmartApps, visit http://www.smartapps.com.
Media Contact
Kathy Merrill
Vice President of Marketing
Smartphones Technologies
kathy(at)smartphonestech(dot)com
###