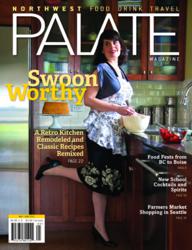 As the Northwest's wine and food importance continues to grow, Northwest Palate will remain the trusted chronicler of the region's special epicurean lifestyle
Portland, OR (PRWEB) May 31, 2011
In 1987, visionary publisher Cameron Nagel sensed something special was happening in the Pacific Northwest. When he launched Northwest Palate a quarter century ago, wineries numbered only 125 (today there are more than 1,400) and chefs were just starting to gain fame for their unique style of cuisine emphasizing locally grown, seasonally fresh ingredients.
This summer Northwest Palate enters its 25th year as the preeminent— and longest publishing—magazine for Northwest wine, food, brewery, craft-distillery, restaurant, and epicurean travel coverage. To help mark this milestone, Northwest Palate has introduced a major re-design, delivering a fresh, contemporary look and renewed commitment to insightful, in-depth writing on the culinary bounty of Oregon, Washington, British Columbia, and Idaho.
Northwest Palate started as a two-color newsletter with the advertising support of a handful of pioneering wineries, hotels, and restaurants. Over the years, the magazine grew into a leading voice for one of the most exciting culinary regions in the country. In 2006, James Beard Award-winning writer Cole Danehower joined Northwest Palate as co-publisher, and leads the magazine today.
Northwest Palate's staff is unmatched in its regional expertise, and deeply rooted in the Northwest's wine, spirits, and food culture. Publisher Danehower began writing about Northwest wines in 1999, was given the James Beard Foundation Journalism Award for his Oregon Wine Report in 2004, and was the recipient of the Industry Partner Award from the Oregon Wine Board in 2010.
Editor Peter Szymczak has not only cooked on the line in Northwest restaurant kitchens, he holds a journalism degree from the University of Texas as well as a diploma in Culinary Arts from the Oregon Culinary Institute. Art Director Vanessa Duff is a veteran of Ultimate Northwest and MIX magazine, gaining expertise in magazine design of culinary-related content.
"I am proud of the continued excellence Northwest Palate offers our readers," says Nagel. "We raise a toast of thanks to our subscribers, advertisers, writers, and photographers we've worked with over the years."
"As the Northwest's wine and food importance continues to grow," says Danehower, "Northwest Palate will remain the trusted chronicler of the region's special epicurean lifestyle—from wine, beer, and spirits, to farmers and fishers, home cooks and restaurant chefs, plus all the region's alluring culinary destinations."
For more information visit http://www.nwpalate.com or call 503-224-6039.
# # #