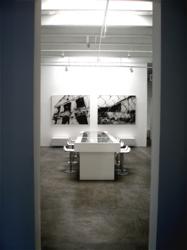 Los Angeles, CA (PRWEB) May 31, 2011
+Beryll flagship store in Santa Monica offers its clients a plentiful selection of their silver jewelry, sunglasses, leather jackets, t-shirts, belts and artisan leather bags. Each piece they sell is handmade here in Los Angeles and each one is different from the next, promoting uniqueness within the collection as well as individuality for the wearer. Essentially its +Beryll ability to provide classic pieces that remain fashionable beyond seasonality and that transcend fast fading trends, which keeps customers returning, time after time.
The space is an obvious reflection of the discerning tastes of Sigmar Berg, designer and founder of +Beryll. Upon entering the store, customers are immediately drawn to the depth of the +Beryll collection, carefully hung on old metal piping and laid out organically in long white showcases centered in the whitewashed room. Everything seems to glow in a natural light, which wafts down from large skylights installed in the high ceilings. And because of the stores location in the eternally sunny Santa Monica, they always provide a bountiful quantity of light to view the pieces. Sigmar's artwork is displayed on the walls, and uses them as revolving displays that will change periodically, which maintain a fresh energy in the store.
+Beryll founder and chief designer Sigmar Berg explored his belief in the unadorned timelessness of pure form in training as an architect. It is this philosophy of aesthetics that inspires his signature design style recognized for its superior quality, trend-setting design, and understated luxury. +Beryll designs are an alchemy of pure form, function and exquisite craftsmanship.
Berg and his artisan workers use select materials chosen for their ability to become more beautiful with age; materials that mold to the personalities of their owners. The foundations of the +Beryll designs are based on their exquisite craftsmanship and luxurious materials.
Sigmar's unfailing focus on design has received worldwide recognition as one of the top high-end brands. His pieces are often seen worn by the likes of Angelina Jolie, Brad Pitt, Demi Moore, Sharone Stone, Lenny Kravitz, Sarah Jessica Parker, Drew Barrymore, Steven Tyler, Juliette Lewis, Sandra Bullock, Robert de Niro, Matt Dillon, Amber Valletta, Mira Sorvino, Kim Basinger, Nicolas Cage and many other high profile celebrity clients.
+Beryll worn by good people
+Beryll
908 Colorado Avenue
Santa Monica, CA 90403
Phone: (310) 393-3220
http://www.beryll.com
# # #