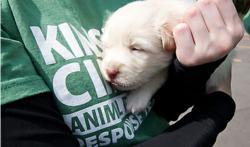 Samu and her babies are among the lucky. Thousands more companion and farmed animals remain stranded in Japan's continuing radiation exodus.
Kawamata, Fukushima Prefecture, Japan (PRWEB) May 27, 2011
A Kinship Circle Disaster Animal Response Team searches roads and homes in the Yamakiya District of Kawamata, the most recent part of Fukushima Prefecture under mandatory radiation evacuation. Thousands of animals are already trapped without food, water or care in Futuba District ghost towns closer to a nuclear plant damaged in Japan's 3/11/11 earthquake-tsunami. When Yamakiya empties under nuclear emergency law — along with Hirono, Kawauchi, Naraha, Iitate and parts Minami Soma and Iwaki City — a police-barricaded 20km zone widens to 30km. The team races against the clock to prevent another death camp for left-behind animals.
An evacuating resident pulls to the curb and hands over her dog on the spot. Samu, a black-white Spaniel mix, is lactating. The woman believes her puppies are dead. With so little time to find roaming animals and families en route to no-pet evacuation centers, the rescuers continue canvassing the area. Samu, however, is frantic. She paces and presses against her kennel to escape. So the group returns to the Kawamata home Samu once occupied to look for her pups. While inspecting sheds on the property, they hear quiet murmurs. Something stirs under the floorboards in one shed. Samu suddenly dives beneath the wooden slats. She has found her puppies and they are crying out for her. But the babies are trapped without enough crawl space to reach them.
Team members strip metal sheeting from the barn's exterior and tear down part of a mud wall. By now the floor vibrates with panicky yelps. The volunteers kick in plywood lining and yank up floorboards. One reaches into the dark to pull out a wiggly pup. Her littermates are beyond grasp, so volunteers root up more floorboards. Finally, they are able to scoop up the rest of Samu's puppies. The 3-4 week old lab/spaniel mixes tumble joyously over their relieved mother. The family returns to the rented house in Inuwashiro, Fukushima where Kinship Circle and a coalition of local NGOs, Japan Earthquake Animal Rescue & Support (JEARS), temporarily shelter and medically aid rescued animals.
Samu and her babies are among the lucky. Thousands more companion and farmed animals remain stranded in Japan's continuing radiation exodus.
Kinship Circle, a U.S. nonprofit organization that specializes in animal advocacy and disaster rescue, has been in Japan since March to aid animal victims of the earthquake-tsunami-radiation disaster. The organization is issuing an urgent plea for donations to sustain search-rescue, animal food delivery, and emergency sheltering. Currently based in Sendai, Miyagi Prefecture and Inuwashiro, Fukushima Prefecture, volunteers drive hundreds of miles daily to reach, rescue and transport animals to safety.
KINSHIP CIRCLE is a nonprofit organization that promotes animal protection and freedom by rallying global voices to seek legislative, industry and societal reforms for animals. Our primary focus is investigative cruelty research and action campaigns to end abusive practices or enforce/enact animal laws. Kinship Circle produces educational materials on over 50 topics for use in humane education settings, student projects, presentations, letters/articles.
KINSHIP CIRCLE ANIMAL DISASTER AID is our specialized faction that deploys emergency aid for animal victims of natural and human-caused disasters. Our responders reflect a wide range of training and certification: Search and rescue, veterinary care, crisis sheltering, fire and water rescue, large animal and technical rescue, wildlife rehab. In recent years, Kinship Circle has helped animals in: Brazil Floods-Mudslides, Chile Earthquake-Tsunami, Gulf Oil Disaster, Haiti Quake, Iowa Floods, Hurricanes Gustav and Ike, Hurricanes Katrina and Rita.
JAPAN FIELD NOTES
http://www.kinshipcircle.org/disasters/japan_quake/notes.html
JAPAN PHOTO LOG
http://www.kinshipcircle.org/disasters/japan_quake/photos.html
SUPPORT ANIMAL RESCUE/RELIEF IN JAPAN
http://www.kinshipcircle.org/donation
###