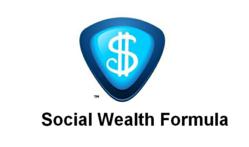 "The Social Wealth Formula™ was created for small businesses and anyone who sells information online."
San Diego, CA (PRWEB) May 31, 2011
BrandSEO.com founder Andrew Zirkin saw a pattern between social media and search engine optimization techniques, merging them into the revolutionary Social Wealth Formula™.
The formula is a six module program, covering Facebook, Twitter, YouTube, web copy, core marketing and social search to help businesses best use social media and Internet marketing for business success.
"I invested tens of thousands of dollars and spent nearly two years of my life developing this program into a foolproof method for success," Zirkin said. "The Social Wealth Formula™ was created for small businesses and anyone who sells information online."
Zirkin spent the last seven years working with businesses to get their websites and products to the top of search engines. He began experimenting with social media marketing and discovered it could become an integral part of a company's marketing strategy.
He knew the future of Internet marketing and promotion was social search when powerful search engines like Google brokered billion dollar deals with social media sites.
"This launch is a great opportunity to find out what Social Wealth Formula™ has to offer," Zirkin said. "It's a revolutionary new way to get more connections, sales and exposure online. "
Social Wealth Formula™ – http://www.socialwealthformula.com/press
The launch is geared toward authors, coaches, speakers and anyone else who wants to find the right kind of marketing strategy for their business. It's perfect for helping companies struggling with marketing and social media to find leads, clients and sales.
Zirkin wants to create a group coaching program and maintain the highest quality of mentorship. The initial version of the product is only open to the public for a three week launch window.
For more information about the product or the social search concept, feel free to contact Andrew Z at Andrew(at)SocialWealthFormula(dot)com, (619) 446-6447 or visit http://www.socialwealthformula.com/press.
If you are interested in becoming a student of Social Wealth Formula go to http://www.socialwealthformula.com
About Andrew Zirkin
Andrew Zirkin is owner and CEO of BrandSEO.com, one of the best companies in the world at getting people's websites to the top of Search Engine listings. He is known as an industry expert, because of the tremendous success of his clients. Zirkin has been involved in search engine marketing, professionally, for more than seven years now and has had the opportunity to work with and help prominent personal development leaders like Jim Rohn, Chris Howard, Mari Smith, Jeffrey Gitomer, Ram Dass and John Assaraf from The Secret. Zirkin experimented with social media marketing for more than a year and transformed that experience into the Social Wealth Formula™.
# # #