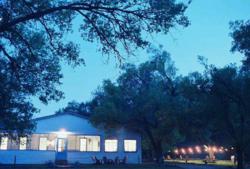 We call it roughing it deluxe; updated lodging, custom meals, and opportunities to get off the grid yet only be 45 minutes from the galleries and restaurants of Taos. --Minette Burges, co-owner with husband and partner Alan Huerta
Cimarron, NM (PRWEB) May 26, 2011
High in the Sangre de Cristo Mountains of the Southern Rockies, but less than an hour from the arts and culture of Taos, NM, Cimarroncita Historic Ranch Retreat was built in 1908 as a wilderness resort reachable only by rail. Now fully restored, Cimarroncita features full service retreats for families, groups and individuals including delicious home cooked meals, access to some of NM's most pristine private wilderness and trout water, and unique programming for those in need of a true summer sanctuary.
The summer season in this high mountain country lasts from June 1 through September 30th.
Bookings for heritage lodging and nature adventure including fly fishing and guided hiking are accepted throughout the season.
In addition special programs are offered, new summer programs include:
A Cowgirl Weekend: August 19-21 $800 per person** An event not to be missed for those women whose dream getaway involves the keywords horses, casual, and loads of fun. Equestrian director Nancy Burch has been wrangling horses in this part of New Mexico for thirty years, she knows the Cimarroncita back country, how to match a rider with a horse, and how to have fun.
With an evening ride on arrival day and a morning ride on departure day, and featuring a full-day Saturday Trail Ride with a gourmet picnic lunch on the trail, Nancy will lead the rides through Cimarroncita's high mountain back country where guests will experience the spectacular vistas of the Sangre de Cristo range of the Southern Rocky Mountains, abundant wildlife, and even white tablecloths and champagne around the campfire.
Heart of the West, Week of Enchantment: July 3-9 $1350 per person** This escorted tour starts in Santa Fe and features a historic, cultural, and culinary journey unlike any other—first the Cimarron 4th of July Rodeo delights, followed by the UNESCO World Heritage Site of Taos Pueblo, and includes Santa Fe's world class Opera, among other adventures.
The Nature of Transition: July 22-24 $600 per person** Join Laurie Silver, psychotherapist, certified life and executive coach, and founder of "adayatthemindspa" presents "The Nature of Transition". Reflective, interactive and spontaneous practice allows participants to discover their own transitions and gain insight from the magnificent natural surrounding.
Plein Air Painters Workshop: August 25-28 & September 22-25 $795 per person** Join artist, Judith D'Agostino, in a plein air workshop for beginners to advanced painters. From streams to mountains in an unforgettable setting, Judith will teach you the fundamentals of capturing the surrounding Cimmaroncita landscape of Northern New Mexico. Individual attention will be given to each participant and evening critiques will be part of the experience.
Judith taught at the University level for several years and retired as Director of Education at the Tucson Museum of Art in 2001. Her work is exhibited in galleries in Santa Fe, Scottsdale and Toronto, Canada and is in the collections of prestigious museums throughout the United States, Canada and Europe.
Photography Workshop: Summer Wildflowers: August 22-25 & Autumn Brilliance: September 22-25 $795 per person** Led by Taos photographers Steve Immel and Daryl Black, this workshop provides the Place, the History and the People as well as sound experienced guidance to take your photography to another level. This is an opportunity to develop your photographic skills and create dynamic, thought provoking images in a stunning wilderness getaway.
All Summer Getaways are featured in detail here: http://www.cimarroncita.com/getaways.php
WHY CIMARRONCITA: Cimarroncita offers nature tourism and heritage lodging in a spectacular setting of pristine wilderness and protected lands. Located in northeastern New Mexico at the heart of the Cimarron Canyon in the Sangre de Cristo Range of the Southern Rocky Mountains, Cimarroncita's two-mile Dream Water stretch of Cimarron River is among the finest private fly fishing in the Southwest.
LOCATION & GETTING THERE: Cimarroncita is just east of Ute Park between Eagle Nest and Cimarron on Highway 64, the route connecting and extending New Mexico's two most beautiful official scenic byways, "The Enchanted Circle" and "The Santa Fe Trail".
Elevation: 7300 feet at the valley floor, to 9400 feet at its highest peak.
170 miles northeast of Albuquerque • 110 miles northeast of Santa Fe 50 miles southwest of Raton • 45 miles northeast of Taos
Driving directions can be found here: http://www.cimarroncita.com/location.php
CONTACT INFORMATION: Mailing address: Cimarroncita / P.O. Box 68 / Ute Park, NM 87749; telephone: Toll free 866-376-2482 / local 575-376-2376; email: info(at)cimarroncita(dot)com
PRICING INFORMATION:
**ALL SUMMER PROGRAM COSTS INCLUDE MEALS AND LODGING
*Lodging and nature activities: $250 per night per person (includes fishing the Cimarron River, or guided hiking/ birding etc.)
*Guided overnight camping expedition: $350 per night per person
*Horseback riding: available at additional cost (not including Cowgirl Weekend)
*Exclusive Use Venue for Celebration, Reunions, Meetings: Custom pricing based on custom use
**Note: Pricing is all inclusive of lodging and meals, activities and programs.
Tax and gratuity is added at time of booking.
For media inquiries, please call Jennifer Hobson 505 603 8643 or Jennifer(at)jlhmedia(dot)com
###