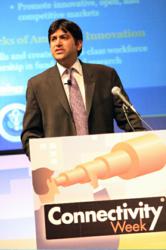 Meeting the President's goal of 80 percent clean energy by 2035 'demands a modernized electrical grid.'
Santa Clara, CA (PRWEB) May 25, 2011
Today at the ConnectivityWeek Smart Grid conference in Silicon Valley, Aneesh Chopra, CTO of the United States, delivered a strong challenge to the 'who's who' audience of Smart Grid innovators, influencers, investors, and decision makers.
Chopra challenged the audience to find solutions and answers to this question: "How can we safely and securely provide customers electronic access to their energy information, thereby supporting the continuing development of innovative new products and services in the energy sector?"
He spoke to one of the federal government's key agenda items -- fostering innovation around Smart Grid, energy efficiency, and renewable energy. Meeting the President's goal of 80 percent clean energy by 2035 "demands a modernized electrical grid," Chopra stated. In the context of discussing the entrepreneurial opportunities in the Smart Grid and smart energy arenas, he said, "My thesis is there's never been a better time to be an innovator."
Speaking to government efforts to spur innovation, like Data.gov, which enables innovators to tap into vast and open information sources to offer new solutions to everyday challenges, he described how Washington is doing its part "to allow that entrepreneurial community to plug in" and said, "Data is the new currency for the innovation economy."
"Aneesh Chopra energized the ConnectivityWeek crowd and delivered a clear message for entrepreneurs here in Silicon Valley and throughout the country," said Anto Budiardjo, president and CEO, Clasma Events. "We are thrilled to have such a strong commitment to smart energy from the top levels of government and to provide the opportunity for industry-wide collaboration in support of these goals."
Clasma Events, Inc. specializes in strategic conferences at the center of the worldwide energy discussion. Focusing on Smart Grid, connectivity, and the new energy economy, Clasma's major events include ConnectivityWeek, GridWeek, and Grid-Interop.
Clasma, GridWeek, ConnectivityWeek, and Grid-Interop are trademarks or registered trademarks of Clasma International Corporation. Other product or service names mentioned herein are the trademarks of their respective owners.
Allison Eckelkamp
allison[at]clasma[dot]com
(508) 769-6276
Jeffrey Lettes
(408) 406-1161
jlettes[at]globalmediastrategy[dot]com
###