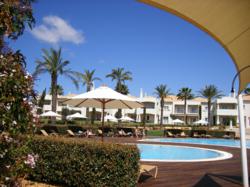 (PRWEB UK) 27 May 2011
Visiting guests will receive the VIP treatment, being picked up at the airport by a private driver and taken to stay in one of the beautiful Vale D'Olivieras properties. The trip also includes breakfast at the Olive Tree Restaurant every morning. The visit also allows prospective buyers to enjoy the Gym and Health Club, which includes an indoor pool, hot tub, tennis facilities and sauna.
When buying property in Portugal, it is always important for buyers to take an inspection trip to see with their own eyes what they are investing in. Guests to the Vale D'Olivieras property will get a feel for the area, and experience what it is like on the nearby beaches and world-class golf courses. During the three day stay, visitors can also visit the surrounding little Portuguese fishing villages and dine on delicious cuisine at local restaurants.
Many resorts such as Vale D'Olivieras offer reasonably priced inspection trips, because they are a great way for prospective buyers to understand what it would be like to live at the property. It is hard to convey the atmosphere of a place like Vale D'Olivieras over an online website and buyers really need to enjoy the lifestyle first-hand before they decide to make the investment in a Vale D'Olivieras property.
Vale D'Olivieras are pleased to present, for a limited time only, a fantastic promotion for interested buyers in the resort.
All buyers can purchase using a special promotional fixed exchange rate of €1.20 to £1, whilst fractional buyers are also able to avail of special extended payment terms, spreading the cost of their new purchase over two years.
Vale D'Olivieras is located near to Carvoeiro, which is a lively and welcoming beach town in the Algarve. Once a small fishing village, it has evolved into a popular tourist attraction with a vibrant town centre. Many venues feature live music and excellent local restaurants serve fresh fish and tasty authentic Portuguese cuisine. The area is blessed with 300 days of sunshine per year and many British holiday home buyers choose the Algarve because it is a sunny destination throughout the year. The Algarve is also famous for its world-class golf courses, with many great facilities located throughout this area of Southern Portugal.
Vale D'Olivieras is a fully gated community with 24 hour security and fantastic facilities, making it more like a holiday resort than a luxury property development. Maintenance of the property, such as all cleaning and repairs are taken care of by the management, which makes owning a home here effortless.
At Vale D'Olivieras, prospective buyers will have a great deal of choice when it comes to their Portugal home. The development offers one bedroom apartments, or the more spacious two bedroom apartments, and buyers can choose from a variety of external architectural designs. Homebuyers can also select the interior decor scheme of their Vale D'Olivieras property. Each apartment features air-conditioning, a wood burning fire, and fully fitted kitchens with new appliances.
When it comes to types of holiday home ownership, Vale D'Olivieras offers the full range of choices. Full freehold ownership is the traditional way of buying these types of property, however now buyers have the chance to invest in a holiday home in a joint or fractional ownership agreement. In this situation, a purchaser owns a quarter of an apartment so that the price of the home is split between as many as four people. Use of the holiday home is divided into 13 week periods throughout the year, which are arranged in an alternating schedule. Fractional ownership allows those who might not be able to afford an entire property the chance to still have a holiday home in Portugal that they can enjoy.
With discounted inspection trips, interested buyers will find it very easy to take a trip down to Vale D'Olivieras to see if the lifestyle of this beautiful resort suits their needs.
Information For Editors
Savills Select Resorts
Telephone: +44 (0)1202 765011
About Vale D'Olivieras:
Vale D'Olivieras is the Algarve's Premier 5-star Resort & Spa located next to the lively and welcoming town of Carvoeiro. This exclusive development of luxury apartments is well complemented by a boutique style hotel and is only 40 minutes drive from Faro International Airport.
###