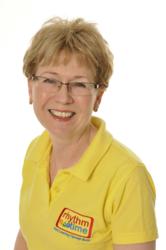 It is wonderful we can support the good work of the Hello Campaign
Solihull, West Midlands (PRWEB UK) 28 May 2011
Rhythm Time, one of the UK's fastest growing children's music franchise groups for the under 5s, is proud to announce its support to the National Year of Communication's Hello campaign.
This campaign aims to increase understanding of how important it is for children and young people to develop good communication skills.
According to the campaign's statistics, in the UK today over 1 million children and young people have some form of speech, language and communication need.
Rhythm Time understands the importance of developing good communication skills in young children, as this is also an integral part of what it aims to achieve through its music classes. Music is crucial to a child's development as it develops both sides of their brain - the creative and the logical.
"Music is all about rhythm, shape, pattern and form - all these are also fundamental to speech and language development" says Kathy Doolan, founder and managing director of Rhythm Time. "We were delighted when we were contacted by a representative of the Hello campaign at Birmingham Children's Hospital, as they were interested in using some of our materials to help some of their young patients. The materials (including music cds and instruments) would be used to promote parent-child interaction, and open up opportunities for the development of speech, language and communication skills."
"With minimal resources and funding, ideas are sometimes difficult to put into practice, so it is wonderful that we can offer support through donations of materials and other fundraising activities" adds Kathy.
Throughout its music franchise group, Rhythm Time has a set of unique courses that have been specifically written by Kathy (previously Head of Music at a Scottish school) and created to help a child's confidence, creativity and co-ordination. The classes are aimed at different age groups, specifically:music classes for babies (from birth to 14 months), music classes for toddlers (15 months to 3 years), and music classes for pre-school (3 – 5 years). A child can show key signs of development at each stage, so it is highly beneficial to progress throughout all 3 age groups. Kathy is a strong advocate of music being crucial in helping to develop a child's speech and language from an early age and this forms a key element in all the classes.
Since it started in 1995, Rhythm Time has grown significantly and its music franchise opportunities have now been taken up by 35 franchisees across the UK, enabling 9500 children across the UK to enjoy their fun and educational music classes.
"We very much look forward to supporting the Hello campaign and helping them to promote this extremely important area of work" adds Kathy.
For more information on its support for the Hello campaign, or to find out about a Rhythm Time music franchise throughout the UK, contact Kathy Doolan at Rhythm Time on 0121 711 4224 or visit their website.
Information For Editors
Rhythm Time
76 Beechwood Park Road
Solihull
B91 1ES
Telephone: 07813 831516 / 0121 711 4224
Email: marketing(at)ftfg(dot)c(dot).uk
Rhythm Time was started in Solihull in 1995 by Kathy Doolan. After a very successful five years, Kathy decided to franchise the business in 2000.
All the courses have been created by Kathy, who trained at the Royal Scottish Academy of Music & Drama in Glasgow.
Rhythm Time now has franchises all over the UK, operating in 300 venues with approximately 9500 children attending classes.
In April 2011, Rhythm Time was contacted by a Speech and Language Therapist at Birmingham Children's Hospital (and a member of the Hello Campaign) to request support through donations of their music and instruments. This would enable them to run activities with some of the patients that would stimulate speech, language and communication skills and carry out the work of the campaign.
Kathy previously was head of music in a Scottish school and shares with all franchisees and teachers a real passion and belief in the importance of music during a child's formative years.
Kathy is a strong believer that singing unaccompanied helps to develop a child's speech and language from an early age and this forms a key element in all the classes.
###