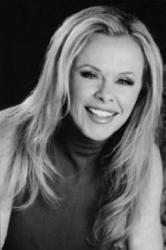 We now know that we can make changes in our lifestyle... and make our middle age a lot higher then previously imagined. - Greta Blackburn
Los Angeles, CA (PRWEB) May 31, 2011
Now when a person turns 100, people celebrate by flying in from around the country to congratulate them on such a long life. But could this now rare event become common place as someone turning 50 today?
Recent news and research is increasingly pointing to yes and "100 is the New 50"'s (http://100isthenew50.com) Greta Blackburn, health and fitness authority puts all this research together into one place in a new free worldwide teleseminar. (See her photo to the right)
Recently the world was abuzz with the announcement of the "test that can tell you how long you will live." The announcement made by Maria Blasco published research that has shown a simple blood test (Currently only available in the EU) can predict, fairly accurately, how long you have to live. This test measures telomere length.
Telomeres are key structures at the end of chromosomes, who's length determines how vulnerable your body is to age-related disease such as heart disease, cancer, and Alzheimer's (Among the top killer diseases in the US.)
Research that discovered the role of telomeres and this connection earned the associated researchers a Nobel Prize in 2009.
Where this research stops is; while it shows when one might die, it doesn't show us what we can do about it.
This is where research by such figures as famed biogerontologist Aubrey de Grey, PhD; anti-aging pioneer Dr. Vince Giampapa;, Michael Rose, PhD, the famous evolutionary biologist; Dr. David Sinclair, Calvin Harley, telomere pioneer, Dr. Michael West, the world renowned stem cell expert; and health and fitness authority Greta Blackburn (Pictured to the left), co-author of "The Immortality Edge: Realize the Secrets of Your Telomeres for a Longer, Healthier Life", come in.
Greta has been making news herself lately spreading the good word about what we can do about telomere length.
As she explains, "Telomeres are affected by a host of lifestyle factors, including stress, diet, and exercise. We now know that we can make changes in our lifestyle that will protect and rejuvenate our telomeres and make our middle age a lot higher then previously imagined. And those telomere tests? Armed with the information in The Immortality Edge, people can be sure that the "snapshot" they receive in such a test, can be changed"
Greta continues, "With this need for change in our lives, "100 Is The New 50" has made an online teleseminar, titled 'The 7 Essential Steps to Fight Growing Old—Like Never Before.' It is being hosted by myself and David Kekich, Founder of the Maximum Life Foundation, and you will meet experts from all ends of the spectrum, including Aubrey De Grey PhD., Chief Science Officer of the SENS Foundation, and Dr. Joseph Mercola founder of Mercola.com" (Technical and other concerns provided by the Anti Aging Source.)
It is broadcasting online globally for all comers, free of charge, on June 11th at 5 pm Pacific standard time, 8 pm Eastern.
For more information, visit 100isthenew50.com.
###