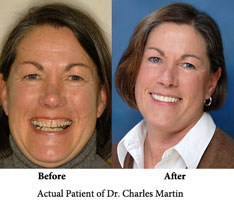 "Implants can help you preserve your health, your looks, your ability to chew, and can help you live longer," says Martin.
Richmond, VA (PRWEB) May 31, 2011
"At age 65 most people can look forward to 20 more years of a healthy, active life. Half the people turning 60 today will live into their 90s and beyond," says Dr. Charles Martin, founder of The Richmond Smile Center in Richmond, Virginia.
The stereotype of "I'm too old to do anything about my teeth" is giving way to "How can I make my teeth look as great as possible?" Baby Boomers who, many years ago, didn't trust anyone over 30 are now focused on making 60 the new 40 and a great looking smile is all part of that mix.
"Many of my patients tell me that they don't want to look old. For them that means taking care of their mouth and, when necessary, getting implants so that their replacement teeth look as natural as their original teeth – or better," says Dr. Charles Martin, a Richmond Virginia dentist who does implants and cosmetic dentistry and also focuses on dental health for diabetics.
"Baby boom patients remember their parents having their teeth extracted and getting full sets of dentures," says Martin. "They also remember how the normal bone shrinkage that accompanies an extraction changed their parent's appearance. One of my patients told me that 'no way' was she going to have a 'crone's mouth.'"
In addition, the recession has made older clients very aware that they are competing for jobs against people much younger than themselves. In 2010, the oldest Baby Boomer turned 64 and the youngest 46. A Boomer turns 60 every 7.5 seconds.
"There's no question that older job seekers are concerned with presenting a vital, healthy and active image," says Martin. "I've had patients come to me with stories about promotions where they were passed over. While no one will come out and say so, they're convinced it's their age so they want to develop a more youthful appearance."
But job concerns aren't the only consideration. Quality of life is also important. "If you don't have good teeth then sharing a meal with those you love – and who love you – becomes more of an ordeal than a joy," Martin adds.
People who lose teeth often find the tooth loss has side effects that spill over to other areas of their life. They may have difficulty with speech, find that their self esteem is lower because of the way their smile looks or find their romantic relationships are affected.
Options are many, but dental implants offer the best choice for many patients who sustain tooth loss, Martin says. "A removable tooth prosthesis really affects your ability to bite and chew food. As a result many people experience more stomach upsets which often leads to using medications. Plus with a prosthetic device it's hard to eat healthy foods that are crisp, like apples and raw vegetables."
Partial dentures are a less than permanent solution also. "After four years only 60 percent of partial dentures are still intact," Martin says. "Plus the teeth next to the partial denture are at greater risk for loss and if the partial is removable, there is accelerated bone loss in the area of the denture."
Choosing implants for replacement teeth helps patients maintain bone, keep their jaw and face looking good and enhances their ability to speak more clearly. Plus implants improve the ability to chew, allowing implant recipients to eat a wide variety of crisp, healthy foods.
Even better – in most cases implants last longer than other options. Among Martin's patients with implants, 93 percent have them still in place after 26 years. Technology makes it possible for implanted teeth to look just like original teeth – or better – and now they can be made from materials that are stronger than human tooth enamel.
"I call implants the modern miracle for failing teeth," says Martin. "Whether you need one, two, three or all your teeth replaced, today we can do that with implants. Best of all, just about anyone who is healthy and fully grown can have an implant. You are never too old," he emphasizes.
"Implants can help you preserve your health, your looks, your ability to chew, and can help you live longer," says Martin. "Plus they can't decay and my patients often tell me that their enhanced smiles boost their confidence. Implants can't get you that job you've always wanted, but they can increase your confidence to go after it."
Dr. Charles W. Martin is the founder of the Richmond Smile Center, a technologically advanced dental practice that delivers dental implant surgery, dental sedation, cosmetic dentistry and complex care dentistry. The center is renowned for its smile makeovers. Dr. Martin, a graduate of Virginia Commonwealth University School of Dentistry, is a Master in the Academy of General Dentistry, Diplomate of the American Board of Oral Implantology/Implant Dentistry and has taught at Georgetown University and the Medical College of Virginia. He is also the author of "Are Your Teeth Killing You", "This Won't Hurt a Bit! The Smart Consumer's Guide to Dentistry", and "Don't Sugar Coat It: The Story of Diabetes and Dentistry". For more information about the Richmond Smile Center visit our website at http://www.richmondsmilecenter.com.
###