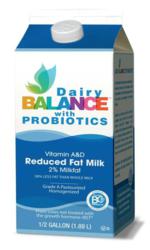 Since almost every household in America purchases milk, and most drink it every day, what better way to provide people with their daily dose of probiotics.
Cleveland, OH (PRWEB) May 26, 2011
Ganeden Biotech, makers of the probiotic ingredient, GanedenBC30®, and Foster Farms Dairy, the largest privately owned dairy in California, today announced the official debut of Dairy Balance™ milk with probiotics.
The new milk line is one of the first to include the probiotic, GanedenBC30, and is one of only a handful of probiotic-enhanced milks currently available to consumers.
Dairy Balance is now available in more than 150 northern California locations, including CVS/pharmacy, Nugget Markets, Winco and O'Briens in the Bay Area and Sacramento region. Distribution to over 500 outlets is scheduled by the end of the year. Dairy Balance milk includes whole and 2% reduced-fat varieties and has a suggested retail of $3.49 for a half gallon.
The new Dairy Balance probiotic milk line is from Foster Dairy Farms, a family-owned dairy for the past 70 years in northern California.
In addition to providing essential calcium and vitamin D, Dairy Balance can help support digestive and immune health with the addition of GanedenBC30 Probiotics. Plus, there is no change in taste or texture to the new milk when GanedenBC30 is added.
"Our goal was to offer a value-added product for our consumer's health without changing their normal eating habits," explained Jeff Sussman, Sales Director of Foster Farms. "Since almost every household in America purchases milk, and most drink it every day, what better way to provide people with their daily dose of probiotics?"
Probiotics are "good bacteria" that have been shown to improve digestive health and support immunity. Unlike other probiotic strains, GanedenBC30 (Bacillus coagulans GBI-30, 6086) is unique in its ability to survive harsh manufacturing processes, including those used in milk processing. The survivability of GanedenBC30can be linked to its naturally occurring layer of organic material that protects the beneficial bacteria. Other probiotic strains, including Lactobacillus and Bifidobacterium are unable to form this protective layer, making them vulnerable.
"We are excited to have GanedenBC30 featured in a fluid milk product with widespread distribution," stated Mike Bush, vice president of business development for Ganeden Biotech. "Foster Farms Dairy has such a rich history of producing quality products that we're extremely excited about our new partnership and Foster's ability to provide consumers a convenient, daily consumption probiotic product."
About Foster Farms Dairy
Established in 1941 by Max and Verda Foster, Foster Dairy Farms is one of the largest privately owned dairies in the western United States. Based in Modesto, California, distribution has grown from delivering chilled glass bottles to the front doors of local Modesto residents in 1941 to fluid and dairy products across the states of California, Nevada and Oregon along with global distribution on ice cream, butter and milk powders. Each week, Foster Dairy Farms milks more than 5,000 cows at its dairies located throughout Stanislaus County and processes over a million gallons of milk per week at its three processing plants. The company provides distribution via eight facilities located throughout California. In addition to milk, Foster Dairy Farms also produces juices, ice cream, sour cream, cottage cheese and specialty dry powders and mixes. For more information, visit dairybalancemilk.com or contact Foster Dairy Farms directly at 888-316-6064.
About Ganeden Biotech
Founded in 1997, Ganeden Biotech is based in Cleveland, Ohio, and at the forefront of probiotic research and innovative functional foods development. It is the largest seller of over-the-counter probiotics in the US through its Digestive Advantage® and Sustenex® brands. Its patented, research-backed probiotic ingredient, GanedenBC30®, can be found in more than 50 food products, including offerings from Red Mango Yogurt, Naked Pizza, and Bigelow Teas. For more information on GanedenBC30 Probiotic and licensing opportunities for food and beverage applications, visit ganedenlabs.com.
# # #