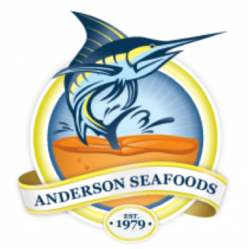 We overnight all of our delicious products right to your front door.
Anaheim, CA (PRWEB) May 27, 2011
Seafood lovers across the country, the wait is over because the annual wild salmon celebration is finally here. Anderson Seafoods, America's most trusted seafood source for over 30 years, introduces fresh Copper River King Salmon to its online retail store for a limited time.
"If you are buying fresh seafood online, we should be your first and last source," says Dennis Anderson, CEO and president at Anderson Seafoods. "Copper River Salmon season began on May 16th and will run for approximately six weeks. So, make sure to get your order in today to enjoy this seasonal phenomenon. Great news! We also overnight all of our delicious products right to your front door."
What makes Copper River Salmon so special? Because the Copper River Salmon's journey is so long, they must store extra fat and oils in order to survive the trip. The river's length and its strong, cold rapids challenge salmon that originate in these pristine waters. Consequently, Copper River Salmon are strong, robust creatures with a healthy store of natural oils and body fat. These qualities make the salmon among the richest, tastiest fish in the world. It is also makes them rich in Omega-3 oils, which are recommended by the American Heart Association.
"Copper River Salmon can be deliciously prepared in a variety of ways," says Kelly Mullarney, corporate executive chef for Anderson Seafoods. "Its flavor and texture holds up well to marinades and grilling, but its flavor is delicate and refined when served raw as sashimi. My favorite way to prepare Copper River Salmon is pan roasted in order to get a crispy skin and a nice crust on the salmon."
As with all of its products, Anderson Seafoods hand-selects the Copper River Salmon at their state-of-the-art facility and packages it in an eco-friendly container designed to maintain its contents at or below 38°F. All of Anderson Seafood's facilities are inspected by the United States Department of Commerce and are HACCP (Hazard Analysis & Critical Control Points) approved, in order to ensure the highest quality seafood available.
Along with the offering of Copper River Salmon, Anderson Seafoods introduces its new Sand Dollars Rewards Club. An initial order of $150 will automatically qualify you for enrollment. For every dollar spent over the initial $150, you will be awarded one Sand Dollar, which can be used towards free entrées and gift cards.
150 Sand Dollars = 1 premium entrée
300 Sand Dollars = 2 premium entrées
*500 Sand Dollars = $25 gift card + 1 premium entrée
*Customers may accumulate a maximum of 500 Sand Dollars in any given time period.
For more exciting details, please visit the Anderson Seafoods website. Orders placed online Monday through Thursday before 1:00 p.m. Pacific Daylight Time will ship to arrive the following morning by 10:30 a.m.
About Anderson Seafoods:
Anderson Seafoods was established in 1979, with the goal of providing premium seafood products and superior service to our valued clients in sustainable and innovative ways. Starting from a small family venture in Orange, California, Anderson Seafoods has evolved into a full-scale, state-of-the-art operation and is recognized as a leading authority in the seafood industry. Anderson Seafoods has established its own network of direct sources for fresh and frozen products from around the world including Mexico, Hawaii, Alaska, Canada, the Pacific Northwest, the East Coast, Asia and South America. With wild caught seafood, the company refrains from doing business with those who engage in illegal, unreported and unregulated methods. All facilities are USDC (United States Department of Commerce) inspected and seafood sources are HACCP approved. http://www.andersonseafoods.com.
###