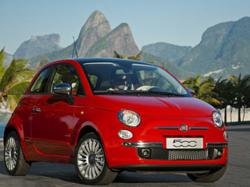 Topeka, KS (PRWEB) May 28, 2011
When the professionals at Briggs Dodge - the leading Dodge dealer in Topeka, Kansas - were asked about the first stand-alone FIAT studio being opened in Michigan, they were very excited. While Michigan may seem like miles away from Kansas, it is a good sign that Chrysler-Fiat is doing better.
Over the last few years, Chrysler has gone through a lot of changes in ownership. Gradually, however, they have been working on their image (and their vehicles) and it shows. With increased sales and new Fiat-only dealerships opening, the sky is the limit.
The brand new FIAT studio, called a studio versus a dealership because of its "gallery-like" quality, celebrated its grand opening recently in Macomb, Michigan. It is owned by the Galeana Automotive Group, and is the first in Michigan to be featured as a stand-alone FIAT dealership.
The 29,000 square foot studio will sell the Fiat 500 which comes in 4 different models currently, ranging in price from $15,500 to $25,500. The Italian original has been customized to meet North American customer's needs and as quoted by Head of FIAT Brand North America Laura Soave, "It gets back to the Italian design and style, with technology at an affordable price."
The grand opening at the Macomb location was attended by FIAT and Chrysler CEO Sergio Marchionne along with more than 100 other invited guests.
Owner of the new studio, Carl Galeana, said, "To be "the first is one thing, but when you have a product as special as the Fiat 500, along with the ingenuity, support, and personal commitment of Mr. Marchionne to ensure its success -- let's just say that I am very excited to be a part of the team, and appreciate the confidence that FIAT has in my organization."
Locals who are interested in what Chrysler and Dodge have been up to are encouraged to stop by Briggs Dodge- the premiere Dodge dealership in Topeka, Kansas and surrounding areas. Their sales team can answer any questions about the great new 2011 Dodge and Chrysler line-up.
###