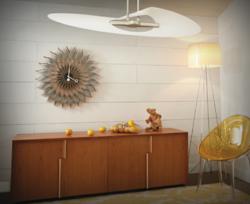 [Fanimation] fans can transform a space, no matter where on the spectrum your style falls.
Sacramento, CA (PRWEB) May 26, 2011
Lumens Light + Living (http://www.lumens.com) has introduced the new collection of ceiling fans from Fanimation. New fan designs include the Landan Ceiling Fan, Marea Celing Fan, Arden Floor Fan and the Quattro Ceiling Fan.
"Fanimation's new designs really showcase forward-thinking design, from aesthetics to using advanced technologies," said Colleen McCracken, director of merchandising for Lumens.com. "These fans can transform a space, no matter where on the spectrum your style falls."
New releases from Fanimation include:
Landan Ceiling Fan: The Landan Ceiling Fan exhibits understated elegance with extreme energy efficiency. Designed for larger indoor spaces like the master bedroom or great room, the Fanimation Landan Ceiling Fan features LED uplighting and downlighting, and is powered by a DC motor—consuming up to 70% less energy.
Marea Ceiling Fan: A functional piece of art that does more than just cool a room. A single, unique frosted blade circulates air in three forward and reverse speeds, providing comfortable air flow all year long. With a 42-inch blade sweep, the Marea is ideal for bedrooms, living spaces and even sunrooms. The Marea Ceiling Fan is available in two finishes: Oil-Rubbed Bronze with Amber Frosted Blades, or Satin Nickel with White Frosted Blades.
Arden Floor Fan: An example of the popular restorative design. A great size for living room and bedroom corners, the Fanimation Arden Fan by Fanimation features a strong oscillating airflow that cools the entire room. Features a walnut wood tripod base that recalls the clean, classic lines of an architect's tripod and a 3-speed rotary switch.
Quattro Ceiling Fan: An excellent fan for the contemporary bedroom or dining room, the Fanimation Quattro Ceiling Fan features a smooth, domed shape with built-in halogen downlighting. Uses a handheld wall mounted remote control with three speeds and infinite light levels. The Quattro Ceiling fan is available in satin nickel finish with reversible cherry/satin nickel finish blades.
Fanimation, an acknowledged ceiling fan industry leader, creates and produces refreshingly innovative ceiling fans for a wide variety of venues. Fanimation's founder, Tom Frampton, who began Fanimation in his Indiana garage, travels the world for inspiration. His company has produced some of the most innovative fans on the market, including the "Fargo" a desk fan that does not ruffle papers and the "Enigma," a unique, one-armed fan. Along with tropical fans, retro fans and stainless steel contemporary ceiling fans, Fanimation ceiling fans and table fans come in a large array of styles suitable for traditional, transitional and modern motifs.
Lumens offers the full collection from Fanimation, and items ship within 24 hours. In addition to these new products, Lumens.com also offers:
-Low-price guarantee
-Expert service via our customer service center
-Easy, no-hassle returns
-Volume order discounts
-More than 300 manufacturers, from contemporary ceiling fans, modern lighting to transitional fixtures and modern furnishings, gifts and home accessories.
For additional information on Fanimation products or Lumens.com, contact Sarah Schaale or visit lumens.com.
About Lumens Light + Living:
Lumens Light + Living is dedicated to offering the very best of design-oriented lighting, fans and home accessories, from the most contemporary international designs to modern interpretations of classic design. Visit us on Facebook and Twitter.
Contact:
Sarah Schaale, Assistant Marketing Manager
Lumens Light + Living
916-444-5885
http://www.lumens.com
# # #