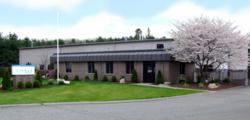 We're excited to be moving to the new facility which will allow for the addition of some new equipment and services over the coming years, as well as key personnel to ensure the continued growth of this department
Agawam, MA (PRWEB) May 27, 2011
2011 is poised to be a significant year for Litron Inc., of Agawam MA. Litron has invested over a million dollars in both the purchase of an additional 9,500 square foot facility just four doors down from their existing 23,500 square foot facility as well as upgrading and expanding upon their equipment and service offerings.
The new 45 Bowles Road, Agawam MA 01001 facility will allow Litron to break out its service offerings based on their two most prominent industries; Medical and Aerospace. The existing 207 Bowles Road facility will service the medical clientele, while the new 45 Bowles Road building will service the Aerospace clientele.
How does this affect the Medical clients?
"Litron's Medical clients will continue to see the same level of quality and reliability as they always have" says Mark Plasse, President. "With the Aerospace manufacturing moving to the new facility, we'll now have room to expand our laser processing services from at least three new manned stations to additional unmanned tube cutting systems."
"In addition to the new equipment, existing equipment will be shifted around and upgraded to allow for more efficient processing of jobs and increased capacity" says Mike Chmura, Laser Services Manager.
The existing building will also continue to house the Laser Systems division and the Laser Hermetic Sealing division. "These two areas support clients from both the Aerospace and Medical markets and will continue to do so as Litron expands" says Plasse.
How does this affect the Aerospace clients?
"Probably the most significant change will be the new building and the move of our Electronic Package Fabrication Services to this facility" says Plasse. "Through coming months we'll be announcing more about what this new facility will offer, but rest assured it will handle everything we currently do plus some exciting new services".
"We're excited to be moving to the new facility which will allow for the addition of some new equipment and services over the coming years, as well as key personnel to ensure the continued growth of this department" says Chris Stefaniak, Package Fabrication Engineering Manager.
What about the job shop clients?
"No change", says Plasse. "We realize not all of our customers fit into the Medical or Aerospace categories. For those customers, there is no worry about being left out in the cold. We plan to continue servicing them just as we have for years. Only now, there will be additional resources to allow for possible enhancements in processing."
About Litron
Founded in 1997, Litron, Inc. is a leading supplier to the aerospace and medical industries for services in laser welding, laser systems, hermetic sealing, and electronic packaging.
For more information on Litron, Inc: http://www.litron.com/
Contact: Brendan Fullam, 413.789.0700, bfullam(at)litron(dot)com
###