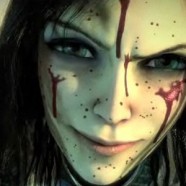 How About A Cup of Tea
(PRWEB) May 31, 2011
Alice: Madness Returns sees an older Alice struggling to recover from the horrible trauma of her past. She sets out to discover these answers in a Wonderland that seems even more horrible and dark than before.
Alice: Madness Returns releases June 14th, 2011, but why wait? Get the Alice: Madness Returns Vorpal blade now through Epic Weapons. This new Vorpal blade features 19" of pure menacing destruction cast from the highest quality Japanese stainless steel. This new blade features a beveled blade and greater detail designs within the blade, made possible by Vorpal, Inc in its improved casting capabilities over the 10-year period since Alice's first arrival in Wonderland. Cast in the same high quality stainless steel, the original Vorpal blade is a must-have for any true Alice fan's collection.
For a limited time only, the original Vorpal Blade and the Alice: Madness Returns Vorpal Blade comes with a free display stands (a 40$ value) when purchased from at http://www.epicweapons.com. These blades are perfect for display, as to instill a sense of awe and maybe even fear in guests.
The zealous lots who think that an actual blade is a wee bit too much to handle are in store for a treat. Epic Weapons now offers the Miniature Vorpal blade. At a total of 9 inches, this miniature Vorpal blade is great for opening letters or even as a display.
For the even less adventurous, Epic Weapons features a six cup replica teapot. Join Alice as she serves tea to her guest, and then uses the teapot to exterminate them. While the Epic Weapons teapot doesn't feature a pistol cannonball, it does meet all requirements of the FDA, so that all the Alice's out there can serve tea to their guests. Only 200 units of this teapot will be available before the June 14th, 2011 release of Alice: Madness Returns. The teapot will be available for mass sale on July 15th, 2011.
Prepare for this epic release by stopping by http://www.epicweapons.com to purchase these amazing commemorative Alice items.
###