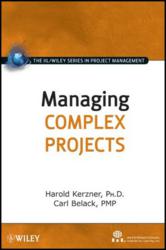 New York, NY (PRWEB) May 27, 2011
International Institute for Learning, Inc. (IIL) is pleased to announce that registration is now open for its newest course, Managing Complex Projects. The first offering of the course will begin on July 18-19, 2011 at IIL's New York City training room. Each participant of the course will receive a free copy of the top-selling textbook, Managing Complex Projects by Harold Kerzner, PhD, and Carl Belack, PMP. The two-day course will provide participants with a working knowledge of project complexities and will give them a framework for managing the ambiguities involved in today's fast-changing, competitive and technology-based environments.
In their efforts to gain acceptance of project goals, changes and objectives, project managers face a wide range of difficulties, such as stakeholder diversity and geographical dispersion. As knowledge and technology are rapidly expanding, organizations are discovering that the tools, processes and methods used to select, plan, and manage their projects are inadequate for the challenges they encounter.
IIL's Managing Complex Projects course will enable senior level managers to describe complexity theory, appreciate complexity and its impact on the management of projects, consider the effects of complexity on the PMBOK® Guide process groups, and apply a high-level model in the management of real world projects. The course will be taught both virtually and in a traditional classroom setting at IIL's New York City headquarters.
Carl Belack, co-author of Managing Complex Projects, says of the course, "Our business environment is changing at an ever-accelerating pace. These changes lead to significant increases in the complexity of the projects that companies need to do to remain competitive. Complexity presents new challenges for organizations and their project managers and teams. IIL's new course on Managing Complex Projects presents a unique model and offers helpful insights for approaching project complexity. Participants will leave the classroom with new tools and new perspectives on managing projects in today's complex business environment."
The Managing Complex Projects course is designed for senior managers who are currently engaged - or about to become engaged - in the management of a complex project, who act as sponsors for complex projects, or who are involved in the selection and the business value assessment of complex projects. For more information, or to register for this course please visit: Managing Complex Projects. To receive a 10% discount for the course, enter discount code MCP10 at checkout.
About International Institute for Learning, Inc. (IIL)
With operating companies all over the world and clients in more than 150 countries, IIL is a global leader in training, consulting, coaching and customized course development. IIL's core competencies include: Project, Program and Portfolio Management; Business Analysis; Microsoft® Project and Project Server; Lean Six Sigma; PRINCE2®; ITIL®; Leadership and Interpersonal Skills. Using their proprietary Many Methods of Learning™, IIL delivers innovative, effective and consistent training solutions through a variety of learning approaches, including Traditional Classroom, Virtual Classroom, simulation training and interactive, on-demand learning. IIL is a PMI® Charter Global Registered Education Provider, a member of PMI's Global Executive Council, an Accredited Training Organization for PRINCE2 and ITIL, a Microsoft Gold Certified Partner and an IIBA® Endorsed Education Provider. Now in its twentieth year of doing business, IIL is proud to be the learning solution provider of choice for many top global companies.
For information regarding IIL's products, services, curriculum, and webinars, visit http://www.iil.com or browse IIL's Digital Catalogue.
###