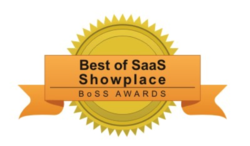 Smartsheet rises to the top as one that enables organizations to cost-effectively scale business operations and productivity.
Bellevue, WA (PRWEB) May 31, 2011
Smartsheet, a leading online project management tool, today announced it has been named the latest winner of THINKstrategies' Best of SaaS Showplace (BoSS) Awards program, which recognizes Software-as-a-Service (SaaS) companies producing tangible business benefits for their customers. Smartsheet's flexible, spreadsheet-like productivity app is used by thousands of teams worldwide for managing and collaborating on all types of projects, tasks and processes.
Smartsheet customer SERA Architects of Portland OR was highlighted in the award. In the case study, the Northwest firm showcased the measurable productivity gains it reaped by using Smartsheet during the renovation of the The Edith Green/Wendell Wyatt Federal Building in Portland. SERA noted how they:

reduced the design time from an original 24 months to 9 months for one of the largest government building renovation projects funded by the American Recovery and Reinvestment Act (which required the design and construction move at "lightning speed" so American workers could get back to work as soon as possible)
served as the "hub" for more than 50 people, including designers, engineers, the General Contractor and many subcontractors, as well as the client - GSA, enabling them to collaborate "in the cloud", sharing documents, notes, and project status
reduced paper waste (namely oversized print outs) by 50% and significantly reduced meetings and conference calls
According to James Riley, Project Architect and Associate at SERA, "With so many people involved in the process, Smartsheet became the hub that kept us all connected and on the same page as things changed. It has become a critical tool for managing our business."
"As more companies migrate to the cloud, they're looking for proven apps that provide a positive impact on operations, sales, customer satisfaction and productivity," said Jeffrey M. Kaplan, founder of the SaaS Showplace and Managing Director of THINKstrategies. "Smartsheet rises to the top as one that enables organizations to cost-effectively scale business operations and productivity."
"It's very rewarding to be recognized by THINKstrategies with the Best of SaaS Showplace Award," said Mark Mader, CEO of Smartsheet. "Not only is it a testament to the value our tool provides, it also gives us an opportunity to showcase our customers and bottom-line business results they're receiving from using Smartsheet."
About SaaS Showplace
Founded and administered by THINKstrategies, the Software-as-a-Service (SaaS) Showplace is a part of the newly expanded Cloud Computing Showplace, the largest, vendor-independent, online directory and best practice resource center of SaaS, Platform-as-a-Service (PaaS) and Infrastructure-as-a-Service (IaaS) solutions including Managed Services.
About Smartsheet
Smartsheet.com, a leading Software as a Service (SaaS) company, offers businesses an intuitive online project management and collaboration tool. The ease of use of the familiar spreadsheet-like interface, coupled with file sharing and work automation features have made it a popular and highly functional business productivity app for teams. Smartsheet is used by thousands of organizations worldwide for managing all types of work including projects and tasks, operations, sales pipelines, events, marketing campaigns, crowdsourcing and more. Today, Smartsheet is a top-ranked app in the Google Application Marketplace and is integrated with leading web services such as Google Apps and VMWare's Zimbra email. Located in Bellevue WA, the privately held company is backed by Madrona Venture Group, a leading venture capital firm. Visit http://www.smartsheet.com for more details.
###