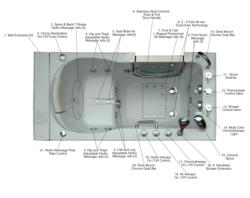 The Clear Choice For Walk In Bathing
Chicago, IL (PRWEB) May 26, 2011
With countless options to choose from in the accessible bathing market, it's no surprise why Ella's Walk In Tubs, an OEM manufacturer based in Chicago, is rising to the top of the pile. Through revolutionary improvements in functionality, visual appeal, and delivery lead time, Ella's Walk-In Tubs are steadily becoming the preferred acrylic walk in tub option for dealers nationwide. With a variety of luxury options built into the stock models and a price point that goes unrivaled, the Ella's models have been creating unique movement in an industry that had slowed post housing crisis. While signs are pointing upward, consumers are still quite sticker conscious, making Ella's brand of walk in tubs well positioned for continued success. Simply put, it is the most affordable option of the high-end walk-in tubs.
All of Ella's jetted walk in tubs come stock with air and hydro massage jets. These systems can be run separately from one another and the flow rate control can adjust the massage intensity. As many of us are aware, customers looking at walk-in bathing options are always concerned with fill and drain time. The industry leading dual-drain system that comes on Ella's models can empty the tub of water in 80 seconds or less. Also noteworthy, their new models are equipped with two diverters for greatly improved fill time. The jetted tubs have chromatherapy lighting and an ozone sterilization system built in stock as well, which can work out to pricy added options through most other companies. "I was pleasantly surprised with the sturdiness of the door and how easy it was to push the locking lever into place and the drain time was unbelievably quick" said, Elfrieda Chalk.
From a visual appeal standpoint, Ella's Walk-In Tubs have really set themselves apart from the pack. With a sturdy tempered-glass door and chrome cast fixtures, the Ella's models sell luxury and relaxation in a more effective way than their peers. This is an important enhancement as research shows that customers are reticent to adopt a product that looks too institutional or medical. Ella's tubs are the only walk in tubs on the market that can offer the relaxation and rejuvenation of an acrylic luxury whirlpool bathing along with walk-in functionality at an affordable price point.
Ella's Walk In Tubs offers next day shipping and a maximum of four day replenishment lead time throughout US and Canada. Through a truly dynamic supply chain and matrix of dealers, Ella's can provide the strongest consistency of product availability. When calling their technical support center, you can always get through quickly and are able to talk with someone who knows the product inside and out. Whether it's been a technical install question or help with marketing the walk in tub. If you're a dealer or showroom and have a websites, the support staff at Ella's Walk In tub will be able to help.
###