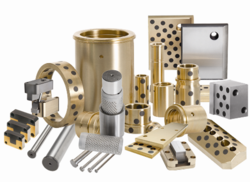 Adding more components to the product line gives customers an advantage to fill in on problem components when considering lead time, price and regional manufacturers
Coopersville, MI (PRWEB) May 28, 2011
SelfLube, a West Michigan manufacturer of mold and die componentry announces their new and updated product line. It has been over a year since SelfLube has made any changes. In their previous catalog they added SESW/SESWT Wear Plates, Sprue Bushings, Unikix Spring Pins and three different metric Trunnions.
In addition to 8,000 different part numbers, the company has added even more to their 2011 edition. The newest products include:
· NAAMS Guide Pin Bushings – without graphite
· NAAMS Pad Bushings – without graphite
· SOBF Flanged Bushings – without graphite
· SPB Straight Bushings – without graphite
· SPF Flanged Bushings – without graphite
· LBBM Shoulder Bushings
· SEGB/SEGBK Ejector Guide Bushings – with/without graphite
· LAM Stop Plates
Each bushing is made of solid aluminum bronze, available in a variety of standard industry sizes and are now available either with or without self-lubricating graphite. Whereas before, other than the LBBM and SEGB/ SEGBK, the bushings were only available with graphite. Another new part, LAM Stop Plates, are made out of 4140 (steel) with an Rc 50-54 (Rockwell scale). All specs and dimensions are accessible on the company's website.
With over 20 years in the mold and die industry the company is always seeking out more ways to reach out and assist its customers. Sales Manager, Greg Kirchhoff explains, "Adding more components to the product line gives customers an advantage to fill in on problem components when considering lead time, price and regional manufacturers". The availability with or without self-lubricating graphite provides customers with options and helps business move along. "In other words it fills the void in parts customers were trying to find," adds Kirchhoff.
In addition to adding new components, SelfLube is now offering an electronic version of its catalog that is available upon request. This is new, a purchasing individual or engineer will now be able to have SelfLube's entire catalog of mold and die components on his or her desktop and ready for quick reference. With an electronic version of their catalog, the company hopes to be more interactive with their customers, which will allow SelfLube to keep its customers in tune with product updates.
SelfLube is a US based manufacturer of precision mold components such as Bushings, Gibs, Wear Strips, Parting Line Locks, Lifter Slides, and related items - about 8,000 standard part numbers in all, many of which are self-lubricating. The company sells directly to build shops through North America, which results in both better pricing and better customer service. Its record for on time delivery is among the best in the industry. SelfLube is a successful growing company and is now in its 20th year of providing superior value to its customers.
###