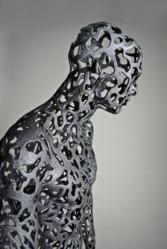 These artists extract deeply personal stories to infuse their artwork with a sense of raw experience
Washington, DC (PRWEB) May 26, 2011
VSA, the international organization on arts and disability, presents Shift, an exhibition exploring the moments that alter a person's life, at the Terrace Gallery of the John F. Kennedy Center for the Performing Arts June 3–30. A panel discussion featuring select artists and moderated by the Hirshhorn Museum's Jessica Dawson, former arts writer at The Washington Post, will be held Thursday, June 9 from 6:30–7:30 p.m. in the Kennedy Center Atrium.
VSA invited artists living with disabilities to share moments when a shift in their landscape occurred. From the personal to the professional, their stories are told through a range of media in this international juried exhibition.
"These artists extract deeply personal stories to infuse their artwork with a sense of raw experience," said Jennifer Wexler, VSA director of visual arts. "From a photographer who begins a quest to capture images when faced with losing sight to the artist who redefines his worldview from escaping pain to seeking happiness, Shift explores these moments of change."
Featured artists are: Sarah Beren, Allen Bryan, Brenna Colt, Emily Dailo, Liz Doles, Jesse Higman, John Lambert, John McCafferty, Bruce Monroe, Hal Moran, William A. Newman, Thomas Sedgwick, Chris Tally Evans, Mare Vaccaro, Gwynneth VanLaven, Kurt Weston, and Jon Wos.
The jury review panel for this exhibition consisted of Georg Burwick, director of digital media at the University of California, Riverside's UCR ARTSblock; Jayme McLellan, founding director of Civilian Art Projects; and Simon Mckeown, reader in animation and post-production at Teeside University in the United Kingdom. The jury reviewed 316 submissions.
This exhibition is free; for the June 9 panel discussion and reception, reservations are requested. To RSVP, email rmloose(at)vsarts(dot)org or call 202-628-2800, x3898.
Shift is the fifth exhibition in a series presented by VSA as part of its commitment to introduce the significant accomplishments of professional and emerging visual artists living with disabilities to wider audiences. Recent VSA exhibitions include Revealing Culture in the Smithsonian Institution's International Gallery and Derivative Composition in the Kennedy Center's Terrace Gallery.
The Kennedy Center, located at 2700 F Street, NW Washington, is open daily 10 a.m.–10 p.m. More information here.
About the June 9 Panel Discussion:
Panel moderator Jessica Dawson has been an active presence in the DC-area visual arts scene for several years, previously as an arts writer for The Washington Post, and currently as the Director of Identity and Outreach for the Seasonal Inflatable Structure of the Hirshhorn Museum and Sculpture Garden. A painter and sculptor, William A. Newman, who has multiple sclerosis, has been a professor at the Corcoran College of Art + Design since 1974. Much of his current work explores the continuity of life cycles. Photographer Mare Vaccaro, who has alopecia universalis, presents self-portraits that deconstruct ideas of femininity, image, and beauty. Bruce Monroe's artwork is directly influenced by his HIV diagnosis; his prints, photographs, and sculptures act as metaphors for the immune system and its response to the HIV virus. Jury review member Jayme McLellan will also participate on the event panel.
About VSA
VSA, the international organization on arts and disability, was founded more than 35 years ago by Ambassador Jean Kennedy Smith to provide arts and education opportunities for people living with disabilities and increase access to the arts for all. With 52 international affiliates and a network of nationwide affiliates, VSA is changing perceptions about people living with disabilities around the world. Each year, 7 million people of all ages and abilities participate in VSA programs, which cover all artistic genres. VSA is an affiliate of the John F. Kennedy Center for the Performing Arts. For more information, visit vsarts.org.
###