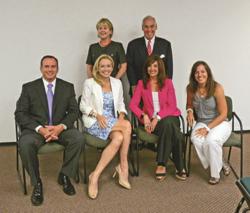 Houston, Texas (PRWEB) May 28, 2011
Daugherty's four top 2010 Top Producers conducted a "round table" meeting. Cheri Fama, Executive Vice President and Chief Operating Officer asked each to tell a little bit about themselves.
Houston estate agent, Laura Sweeney who is the company's #1 top producer has been in the business for 13 years. She credited John A. Daugherty, Jr.'s keen sense of what makes a good sales person for her career. John's sales manager called Laura monthly encouraging her to get her license. Laura said after so many calls, she just could not tell the manager she had not done it yet. The rest is history.
Lisa Kornhauser who is the company's #2 top producer has been selling real estate in Houston for 10 years. She had 3 children under the age of 3. As a young mother she found she loved attending open houses. When her children began attending school she knew she should become a Realtor because she would be doing something she loved to do, interacting with people.
Richard Ray soared to the ranks of top producer after only 2 short years in real estate. This is the career he has had the longest and is the one he has enjoyed the most. Before becoming a Realtor, Richard handled his own rental properties and remodeled 8 homes. He said with his past experience a career in real estate was a natural next step.
Laura Mayer also soared to the ranks of top producer in a very short period of time. She says her outgoing personality is much better suited to working with people than working on a computer which is what she did when she was in investment banking and private equity.
The Daugherty Round Table team was then asked the secrets of their success. Many of their answers illustrated the common thread of success and many of their answers illustrated how individual each person's approach can be.
Laura Sweeney stressed the importance of staying positive and keeping your own ego out of the deal. She also stressed how important it is to work well with the other agent. Lisa Kornhauser feels the most important key to success is negotiating, the delivery and the presentation. She also cautioned to always remember that one's clients are paying them. Richard Ray agreed with Laura and Lisa. He said to keep an attitude of service. He said it is really helpful to imagine the negotiations as plays on a chess board and yourself high above it so that you can view it at a distance and do the best job for your client. Laura Mayer stressed thinking outside the box. She feels that many Houston real estate agents are doing the same things to market their listings. She likes to think of creative ways to market her listing in an effort to reach the buyers first.
In closing, Laura Sweeney read a quote her husband printed out for her to bring to the round table discussion. "Success is a matter of hanging on after everyone else has let go."
About John Daugherty, Realtors
John A. Daugherty, Jr., a fourth-generation Houstonian, founded John Daugherty, Realtors on March 8, 1967 and has served as its president and CEO ever since. In 2009, the firm reached $9.75 billion in total property sales since the millennium (2000). John Daugherty, Realtors is the largest seller of upscale residential homes for the Houston real estate area, currently employing 170 real estate agents and 54 support-staff members
###