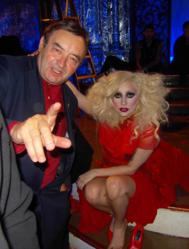 New York, NY (PRWEB) May 27, 2011
In honor of of Lady Gaga's most recent album release, "Born This Way," the Angel Orensanz Center on New York's Lower East Side hosted a party last night, marking the fourth stop on her "Born This Way Haus Party Tour."
Advertised as the ultimate dance party, the eccentric event was thrown by Streamline/Interscope/KonLive records and tickets were sold out many days before Thursday night.
"'Born This Way' sums up all the complex Gaga mythos, all her politics and Catholic angst and smeared lipstick, in one brilliant pop blast." (Rolling Stone)
"Born This Way," Lady Gaga's third album is bordering on the war of the financial galaxies.
The promotion campaign of her new album revolutionized the world's music landscape by a gigantic partnership ranging from Starbucks and Best Buy to virtual giveaways of the album's 17 tracks such as the Disney Mobile Tapulous game app. It also represents the kind of bold, new business model that could help rejuvenate a deflated music industry.
Although she already had a slew of magazine covers, from Rolling Stone to Vogue, and appeared on a wide array of high profile tv shows, from Oprah Winfrey to "American Idol" to "Saturday Night Live," as well as her on own HBO concert special to promote her newest album, however she hasn't stopped there. The online fashion outlet Gilt Groupe partnered with Gaga to offer Gaga-inspired clothing and VIP performances; Best Buy is giving away the album to anyone who purchases a mobile phone with a contract.
Amazon.com started selling yesterday "Born This Way" for just 99 cents as a promotion of the super new music "cloud service". It instantly created a demand so strong that it disrupted the online retailing giant's servers.
With her celebration at the Angel Orensanz Foundation the music world takes note of a new mode of the industry that changes how music is presented, sold and accessed worldwide. The new campaigns are paying off: Lady Gaga's album is estimated to sell anywhere between half-million to a million copies. Such demand is a clear proof of the new promotional system.
Bill Werde editorial director of "Billboard", calls Gaga's promotional efforts "a landmark campaign" for the music industry. It seems therefore that the concert of Lady Gaga at the Angel Orensanz marks a historical world moment in the distribution and diffusion of music.
###