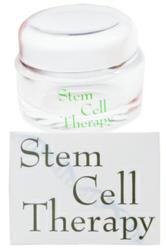 New York, NY (PRWEB) May 28, 2011
The Stem Cell Therapy Cream is a remarkable beauty product that is applied in the same way you would put on facial moisturizer. This anti-aging Cream is formulated to trigger your body's healthy stem cell creation and natural ingredients clinically proven to increase your body's healthy collagen production. It is designed to rejuvenate aging skin to its original youthful appearance.
The Stem Cell Therapy Cream is a wrinkle cream from Emerge labs that works by waking up dormant skin stem cells in the skin so they start producing more new healthy skin cells again. This is vital because at around age 30, the stem cells in our skin start shutting down and gradually produce less and less new healthy skin cells. As a result, wrinkles and fine lines will begin to start forming. Stem Cell Therapy uses clinically proven ingredients to stimulate and awaken these sleeping stem cells so they can produce more new skin cells again.
By awakening your skin's stem cells so they generate new skin cells like when you were younger, Stem Cell Therapy can help naturally smooth out fines lines and wrinkles while making your skin appear younger overall. Using a novel, patent-pending plant cell culture technology, Emerge Labs introduces PhytoCellTec - dedifferentiated callus cells from a rare Swiss apple that studies show protect skin stem cells thus promoting self-renewal capacity of the skin. Apple stem cells are rich in epigenetic factors and metabolites that assure the longevity of skin cells. The application of plant cell cultures to maintain the function of skin stem cells is a breakthrough in anti-aging.
The use of Stem Cell Therapy has boomed in popularity the past few years, and has been featured in television advertisements and in celebrity gift bags. Because of PhytoCellTec, the cream promotes skin stem cell growth through the use of SASC2, the patent pending active ingredient found in Swiss Apple Stem Cell Compound. SASC2 greatly decreases visible wrinkles and stimulates dormant stem cells in the skin by incorporating encapsulated sunscreens to shut out damaging UVA/UVB rays. Micro encapsulated vitamins A, C and E also work to diminish fine lines and wrinkles.
The cream contains the following active ingrediants; PhytoCellTec, Matrixyl 3000, Phenoxyethanol Collagen, Squalane, Polyglutamic Acid, Vitamin A, C, E
Emerge labs is a line of products specially formulated, tested and used by leading physicians around the world for the treatment of skin related problems. Their skin care line is based on years of medical research of how their specially designed formulas interact and affect different skin types. Their products are natural and free from synthetic chemicals, fragrances and preservatives. Emerge labs product line has evolved to meet the needs all different skin types and to enhance the results achieved with medical procedures performed on the skin.
To contact Emerge Organic Labs call (866) 327-5069. For more information about Emerge Skin Care visit OrganicSkinCare.com StemCellSkinCare.com StemCellNightCream.com iLift.com
Or visit us at Metamorphosis Day Spa in NYC Metspa.com
###