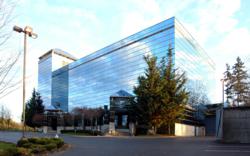 This move enables us to serve our customers more conveniently and allows for future growth.
Spokane, WA (PRWEB) May 26, 2011
Sterling Savings Bank, a subsidiary of Sterling Financial Corporation(NASDAQ: STSA), recently announced that Sterling's Home Loan Division will soon have a new home of its own.
Sterling purchased a building at 6021 244th St. SW in Mountlake Terrace, Wash., that will house the home lending administrative and production operations, escrow services and the Puget Sound real estate group, which specializes in residential new construction loans. Combining these related services under one roof will ensure a more streamlined process for customers.
"This move enables us to serve our customers more conveniently and allows for future growth," said Donn Costa, executive vice president.
The new location is just a few miles south of Sterling's current Home Loan Division headquarters. It provides 60,000 square feet of space, an increase of nearly 50 percent. The move will take place during the summer 2011.
"This is consistent with our commitment to expand our services and increase market share in the Puget Sound," said Ezra Eckhardt, president and chief operating officer of Sterling Savings Bank. "We look forward to expanding our signature brand of service to more business and personal banking relationships."
In Washington last year, Sterling's Home Loan Division closed more purchase transactions than any other lender—bank or mortgage company—headquartered in the state. Sterling closed $2.6 billion in residential loans in 2010, among the highest in the Northwest. Formerly known as Golf Savings Bank, Sterling's Home Loan Division has been in its current location at 6505 218th St. SW since 1981.
Sterling's new location is a four-story, Class A office building next to I-5 and is within walking distance to restaurants and retail stores.
About Sterling Financial Corporation
Sterling Financial Corporation of Spokane, Wash., is the bank holding company for Sterling Savings Bank, a commercial bank. The bank is state chartered and federally insured. Sterling offers banking products and services, mortgage lending, construction financing and investment products to individuals, small businesses, commercial organizations and corporations. As of March 31, 2011, Sterling Financial Corporation had assets of $9.35 billion and operated 178 depository branches throughout Washington, Oregon, Idaho, Montana and California. Visit Sterling's website at http://www.sterlingfinancialcorporation-spokane.com.
###