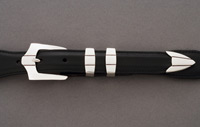 Miami, FL (PRWEB) May 27, 2011
In an effort to support reconstruction of the areas affected by the recent East Japan earthquake, J.W. Cooper, renowned purveyor of the most unusual, one-of-a-kind collectible artistic carvings and accessories for men and women, is participating in a silent charity auction to be held in Tokyo, Japan. The niche retailer, which has had a long-time presence in the luxury accessory market in Asia, is proud to support the event with a theme of "Cheer Up JAPAN~TACHIAGARE (Rise Up)!"
"J.W. Cooper has had a presence in Japan for about five years now and when International Trading Corp. approached me about this event, I didn't hesitate," says Todd Rauchwerger, CEO of J.W. Cooper. The donated item is a four-piece sterling silver buckle set and lizard belt, an item that is consistent with the tastes of the silent auction participants.
The three International Trading Corp. stores that carry J.W. Cooper items have done so because of the quality workmanship and unique design each piece features. "They've picked a clean array of sets that go with the contemporary look of their culture," says Rauchwerger.
The event, organized by the Intercontinental Trading Corp. Cigar Club Division, will take place on May 27th, 2011 from 8:00 p.m. to 11:00 p.m. at the Hacienda del Cielo Daikanyama restaurant. Guests will enjoy special cigars, food, beverages and various kinds of entertainment with live music performances.
About J.W. Cooper
For more than 30 years, J.W. Cooper has been surprising its loyal clientele. Having redefined the men's and women's accessory market with its luxury belt and buckle collection (offering more than 250 styles), J.W. Cooper is renowned for its niche merchandise mix of handmade, one-of-a-kind contemporary accessories, collectibles and custom items. Furthermore, the retailer represents unique lines of limited production by modern luxury brands such as ElfCraft, William Henry Studio and King Baby Studio.
To experience and shop the J.W. Cooper virtual boutique, please visit http://www.jwcooper.com. For additional information: 800.643.5773 or jwcooperbh(at)jwcooper(dot)com. Fan J.W. Cooper on Facebook. Follow JWCOOPERBUCKLES on Twitter.
For media inquiries, please contact Tammy Kollinger at RM2 Project at 305.921.9691 or email to: mailto:tammy(at)rm2project(dot)com.
###