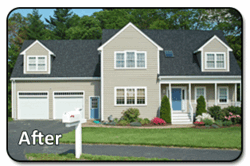 it's more important than ever to give customers the opportunity to share about their experience.
Boston, MA (PRWEB) May 28, 2011
When shopping for house siding homeowners frequently want to see how each siding product looks on homes of similar style to their own and they want to know the steps involved in the process of installing new siding. The Everlast Composite Siding project profiles give homeowners the opportunity to see photos, and read project details about siding installation projects.
Everlast is a unique product designed to look like real wood clapboard siding, without the maintenance. Homeowners previously unfamiliar with Everlast Polymeric Cladding sometimes need convincing that Everlast is the best product for their home. The team at Everlast Composite Siding saw website project profiles as an inovative way to allow siding shoppers to see examples of siding renovation projects and hear from customers who've been through the experience.
In addition to the recent launch of an online photo gallery, Everlast Composite Siding is encouraging their customer's to submit their own siding replacement project photos for consideration. "It's an interactive world we live in," and "it's more important than ever to give customers the opportunity to share about their experience." With the rise of home internet and mobile device use, brick-and-mortar showrooms are quickly loosing foot traffic. Now, the average home computer is a great tool for researching new products by viewing high quality photos and video. The staff at Everlast Composite Siding finds there's greater reach with online media than a physical showroom.
To view the Everlast Siding Project Profiles visit: http://everlastsidingnewengland.com/project-profiles
Everlast Composite Siding is an experienced siding contractor in Boston and serving much of New England. Featuring Everlast Polymeric Cladding, distributed by Norandex Building Materials Distribution Inc., the staff at Everlast Composite Siding is passionate about rejuvenating old homes with low-maintenance but beautiful products. Homeowners in search of siding contractors in Boston can visit EverlastSidingNewEngland.com for more information.
###