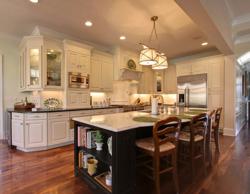 The national buying power of Shea Homes allows us to offer competitive pricing on our custom homes and renovations in Charlotte.
Charlotte, NC (PRWEB) May 28, 2011
Shea Custom LLC was created by Shea Homes, the nation's largest privately held homebuilder. Shea Custom operates in the Charlotte, North Carolina area, and offers custom homes on your homesite, plus custom home remodeling and renovations. Customers are choosing to invest in their homes and upgrade their space instead of selling, as seen by the increase in quotes and contracted jobs underway at Shea Custom.
Shea Custom offers home renovations in Charlotte for all homes, whether they are existing Shea Homes or not. Services offered include finishing attics or basements, room and floor additions, kitchen and bath renovations, outdoor living spaces including porches, decks, and fireplaces, flooring, specialty paint, disability compliance remodeling, and custom cabinetry and built-ins. Recent projects include converting 2-story Family rooms to have a Rec Room above, custom homes in Waxhaw, a custom garage project in Dilworth, and screened-in porches. If customers are looking for homesites to purchase to build a custom home with Shea Custom, the Springfield community in Fort Mill, South Carolina offers Shea Custom as an approved new home builder.
Long-time employee of Shea Homes Charlie O'Melveny transitioned to Shea Custom and oversees all construction personally. Charlie has over 15 years in the home building and remodeling industry, and has always been the go-to Project Manager for custom homes and renovations by the owners of the Shea Homes Charlotte division. The compliment most heard about Charlie from Shea Custom customers is that his communication with them was always clear and abundant, exceeding their expectations.
Charlie says, "The national buying power of Shea Homes allows us to offer competitive pricing on our custom homes and renovations in Charlotte. People come into our design studio and are impressed with the variety of samples, and of course, if they do not find what they want there, they may choose their selections from any retailer in the country. The options are endless when you renovate or build a custom home with Shea Custom of Charlotte."
All Shea Custom estimates are free and require no obligation from the customer. To find out more and to see Before and After photos of recent projects, visit http://www.sheacustom.com. Shea Custom truly offers affordable custom homes and renovations from a name people know and can trust.
ABOUT SHEA CUSTOM
Shea Custom is owned and operated by Shea Homes of the Carolinas, an independent member of the Shea family of companies, which celebrated its 125th anniversary in 2006. Over the past century and a quarter, members of the Shea family and their companies have accomplished many extraordinary milestones, including completing work on the foundation of the landmark Golden Gate Bridge, working on San Francisco's Bay Area Rapid Transit System (BART) and serving as a managing partner for the construction of the Hoover Dam. Today, Shea Custom fulfills customers' dreams by working with them to renovate their existing home to make it what they want it be, or building a complete custom home on their homesite.
###