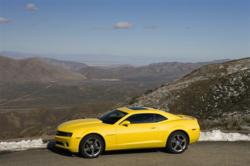 Plainfield, IL (PRWEB) May 28, 2011
You can bet the professionals at Bill Jacobs Plainfield - the leading Chevy dealership in Plainfield, Illinois - are going to be watching the Indy 500. When the 2011 Chevrolet Camaro Convertible sets the pace for the 2011 Indianapolis 500 this Sunday, it will showcase a rag top that was built to last a lifetime.
To assure long-term durability, the convertible top underwent extensive testing during development, being opened and closed more than 22,500 times – three times more than would be expected in a typical 10 years of use. Some of those cycles were performed in extreme conditions; temperatures ranging from minus-22° F to 170° F and humidity of up to 95 percent.
"This past winter we even had our engineers driving 80 of these convertibles back and forth to work every day here in Michigan," said Al Oppenheiser, Camaro chief engineer. "They had to open and close the top five times each day no matter what the weather was like."
Consistent with its coupe-like performance dynamics, the Camaro Convertible offers the looks of the Camaro Coupe when the top is up.
"For many buyers, a Camaro Convertible can be a collector car, something they might keep for generations. So we made sure the tops would retain their quality for a long, long time," said Oppenheiser.
"There is great value in a convertible with the original top." Oppenheiser knows the needs for car collectors well. He personally restored a 1969 Camaro Convertible several years ago.
Unlike other convertible models in the segment, the Camaro top latches with a single, convenient handle located at the center of the windshield header. Once the latch is turned to the open position, the push of a single button lowers the windows and activates the top, which completes its cycle in about 20 seconds.
Local consumers who are interested in a 2011 Chevy Camaro SS Convertible are urged to stop by Bill Jacobs Plainfield - the leading Chevrolet dealership in Plainfield, Illinois and surrounding areas. Their sales team is ready to help locals decide whether the new Camaro is for them or not.
###