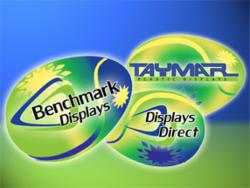 "This was a very successful contest and it built brand awareness and loyal customers. We are pleased everyone had a fun time." Joanne Frohman, President
Palm Desert, CA (PRWEB) May 28, 2011
Benchmark Displays invited customers, prospects and other internet visitors to an Easter Egg Hunt Contest recently. The contest was an innovative and interactive promotion that took visitors to three of Benchmark's websites. Contestants searched for hidden eggs while viewing Benchmark's custom display services, products and stock display items.
Contestants finding special numbered eggs were entered into three separate prize drawings. If they found the prized Golden Egg, they had a chance to win a brand new iPod 32G. Contestants reported that the hunt was informative and compelling all the way through. Many commented that the hunt was clever, well designed and very effective in getting their attention. It was not always easy finding a winning egg; guests reported they laughed at the 'Fred Egg' that popped up when they went the wrong way during their hunt.
Benchmark created a great promotion that was fun, quick and easy for most participants. In addition, Benchmark's tradition of outstanding customer service was evident in the Egg Hunt as well. If contestants got lost or had challenges, Benchmark was pleased to provide special hints and suggestions to get players back on the right path, so everyone had a chance to be a winner.
The Grand Prize winner, Sandra Stanley of Pomaikai Promotions won the iPod. Sandra said, "I really like the hunt and learned lots about Benchmark Displays. I took time to look at and read all about what they do. I think it was one of the neatest ways to learn."
Other winners include, Karri Comer of J&E Uniforms, Inc, Sharon Mahoe of NK Promotions and Bill Walker of Bankers Advertising Co., who each won a package of Snafooz© foam puzzles with their company logos imprinted for a "Self Promo". Snafooz© are the original foam puzzle cubes, great for promotions, incentives and giveaways and is an exclusive product of Benchmark.
Stacy Miller of T R Miller Co., Inc and Rebecca Straub of NLS Specialties, Inc each won gift cards to iTunes and Starbuck respectively.
Benchmark Capital Partners, LLC is the parent company of Benchmark Displays, Displays Direct, Taymar Plastic Displays, Snafooz©, Idea Group and Space Age Americanna, each with website presence.
Expect to see more exiting promotions from Benchmark in the future, as they continue to set the standard for displays that provide businesses of all sizes with stock and custom solutions for retail merchandizing and product point of sale. Primary industries served are restaurants, pharmaceuticals, health care, hospitality, cosmetic and skin care, financial, auto rentals, airlines and more.
###