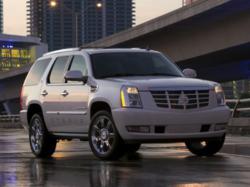 Joliet, IL (PRWEB) May 28, 2011
It was no surprise to the sales professional at Bill Jacobs Cadillac - the premiere Cadillac dealer in Joliet, Illinois - that the Escalade won a huge award for customer satisfaction, which means more than other awards. The award comes at a time when many people are dissatisfied and upset with car companies.
When it comes to customer satisfaction, Bill Jacobs Cadillac is proud to be able to offer vehicles that go above and beyond what people expect in a car, SUV or even a crossover. These days, Cadillac is hitting all the right buttons with customers and it shows with awards like this.
The ranking is based on more than 68,000 surveys completed by owners of new cars and light trucks in the United States in the first quarter this year. When this is considered, the award is even more of an honor in many ways.
"It's especially gratifying to be honored by AutoPacific's Vehicle Satisfaction Awards because they're chosen by owners," said Don Butler, vice president for Cadillac marketing.
"Escalade's consistent strong showing in these awards is a testament to its ability to deliver what customers want in a luxury vehicle."
This is the fourth year that Cadillac has been king of the SUVs - an honor it expects to keep in coming years. With Cadillac doing all they can to improve the Escalade and all their other models, this is not too far fetched. When it comes to performance, dependability and style and luxury, Cadillac is hard to beat.
AutoPacific's research measures owner satisfaction across specific areas such as comfort, safety and the overall purchase/lease experience. AutoPacific is an automotive market research and consulting firm that publishes a variety of studies annually on the industry.
Local citizens who are interested in seeing the King of SUVs for themselves are encouraged to stop by Bill Jacobs Cadillac - the leading Cadillac dealer in Joliet, Illinois and surrounding areas. Their sales team is top notch and they have a selection of vehicles that can't be beat. Add on their top notch customer service and it's easy to see why so many people have shopped with Bill Jacobs Cadillac.
###