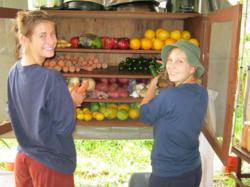 "Dr. Bingham is a perfect addition to our team", commented Toby Mautz, Clinical Director of Pacific Quest, adding "he brings his full spectrum of psychological experience."
Hilo, HI (PRWEB) May 27, 2011
Pacific Quest is proud to welcome Alexander Bingham, PhD, to the Pacific Quest Wilderness Therapy Clinical Team.
Dr. Bingham graduated from Skidmore College and went on to earn a Master's Degree in Counseling Psychology from The California Institute of Integral Studies. He continued at CIIS and received a PhD in Psychology. Dr. Bingham is a Rosen Method practitioner and Biodynamic cranio-sacral therapist. He has served as adjunct faculty in the School of Graduate Psychology at John F. Kennedy University.
A licensed psychologist, Dr. Bingham has served children and families in many varied settings. He has worked with children from ages 6-18, and with adults in several counseling and treatment centers. In 2007, his success and expertise led him to a position as start-up consultant for Alta Mira Residential Program in California. Using his education and interest in integrative counseling techniques, Dr. Bingham founded and directed Full Spectrum Psychological Health Center in San Francisco, CA. in 2004.
"Dr. Bingham is a perfect addition to our wilderness therapy team," commented Toby Mautz, Clinical Director of Pacific Quest, adding, "he brings his full spectrum psychological approach and clinical expertise to our students and families."
Dr. Bingham will be available to work with Pacific Quest students in June. He can be reached directly at dralexander(at)pacificquest(dot)org and (808) 896-6412.
About Pacific Quest:
Pacific Quest is an outdoor therapeutic program for struggling teens and young adults, located on the Big Island of Hawaii. Their wilderness programs offer a clinical, yet holistic approach to treatment, going beyond traditional wilderness therapy and teaching sustainable life skills. Pacific Quest's proprietary therapeutic model is a ground breaking approach that uses organic gardening to create concrete metaphors for its students as they cultivate their own health and happiness. Pacific Quest provides an environment that allows for a true discovery process for its students, a place that is safe, structured, experiential and natural. Owned and operated by a veteran team of professionals with hundreds of years of combined wilderness program experience, Pacific Quest offers a unique approach to treatment that is individualized for each student.
###