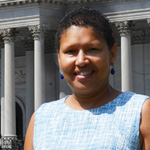 Washington, DC (PRWEB) May 27, 2011
IMF Volunteer Advocates Jan Sealover and Arthur Poms from Rockville, Maryland and Geri Smith-Benjamin from Arlington, Virginia joined other non-profit advocates from across the country for this year's One Voice Against Cancer (OVAC) Lobby Day.
They took their passion for the cause and their drive for a cure to the nation's capitol to fight for legislation important to them and the myeloma community. With support from the IMF Advocacy team and OVAC, they met with the staff of their Senators and Representatives to request sustained funding for medical research at the NIH and NCI, funding for the CDC cancer programs, and funding for the FDA.
Jan, a two-year multiple myeloma survivor, and her caregiver Art, along with two others from Maryland met with the staff of Senator Barbara Mikulski (D-MD), Senator Ben Cardin (D-MD), Representative Christopher Van Hollen, (D-MD), and Representative John Sarbanes (D-MD). Jan willingly shared the touching story of her mother who passed away from multiple myeloma after only 8 months. She explained in each meeting that because of the research that's been done since her mother's diagnosis and new treatments available, she continues to do well since her own diagnosis.
Geri, a four-year multiple myeloma survivor, along with nine others from Virginia met with the staff of Senator Jim Webb (D-VA), Senator Mark Warner (D-VA), and Representative Gerry Connolly (D-VA). The group was fortunate to meet with Representative James Moran (D-VA) and share their concerns about funding cuts. Rep. Moran assured the group that he is a huge supporter of cancer research and the medical research at the Department of Defense.
Please help the IMF help multiple myeloma patients, as well as cancer patients everywhere, by joining our Action Network and becoming part of the solution.
One Voice Against Cancer (OVAC) is a collaboration of national non-profit organizations representing millions of Americans with cancer. It is one of the leading cancer coalitions in the nation's capitol and delivers a unified message to Congress on the need for increased cancer-related appropriations. The IMF has been a member since 2001.
Once a rare disease of the elderly, multiple myeloma represents 1% of all cancers but is the second most common form of blood cancer, and it is being diagnosed in growing numbers and in increasingly younger people. Myeloma affects an estimated 750,000 people worldwide, and each year approximately 20,000 new cases are diagnosed in the United States alone.
About the International Myeloma Foundation
Founded in 1990, the IMF is the oldest and largest myeloma organization in the world, reaching more than 195,000 members in 113 countries. Focusing on four key areas—research, education, support and advocacy, the IMF's mission is to improve the quality of life of myeloma patients while working toward prevention and a cure. The research arm of the IMF, the International Myeloma Working Group (IMWG), comprised of 145 leading collaborative researchers, continues to lead the way in myeloma treatment and research. The IMF can be reached at (800) 453-CURE. The global website is myeloma.org.
###