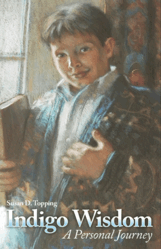 "I felt it was important to address the challenges to working within the traditional medical system when raising a sick child," says Topping. "Our story might help others to learn to trust their own judgment."
Clarkston, MI (PRWEB) May 30, 2011
When Susan Topping became a mother, she could not anticipate the turmoil she experienced when her child developed health issues that conventional medicine could not help.
In her new book Indigo Wisdom, Topping reveals the depths of her despair as a mother and the inner guidance that led her on an unconventional journey with the help of alternative medicine in Europe. After discovering indigo children, a generation of children similar to her son who are believed to have distinctive psychological and spiritual attributes, Topping openly recounts the courage and faith it took to seek spiritual help and the lessons she learned as her son was rejuvenated.
"I felt it was important to address the challenges to working within the traditional medical system when raising a sick child," says Topping. "Our story might help others to learn to trust their own judgment."
Hoping to help others in similar situations gain confidence in their inner guidance, Indigo Wisdom follows Topping's journey from being a 'Type-A' individual to becoming spiritually enlightened. Revealing her personal struggles, Topping shares her life-changing experiences as she learned to broaden her sense of spiritual development and healing.
"In the current climate of upheaval and insecurity, my story should offer hope with the evidence that learning to just go with God's plan is a lot more productive than fighting what we cannot control," says Topping.
For more information, visit http://www.susantopping.com
About the author
Susan Topping holds a bachelor's degree in business and held a variety of management positions before eventually pursuing a career in energy healing. A graduate of the EnergyTouch School of Advanced Healing in Grand Rapids, Topping is a certified practitioner as well as a Reiki Master and owner of Wisdom Modalities, an energy healing practice. She and her husband of 38 years have three grown children. This is her first book.
EDITORS: For review copies or interview requests, contact:
Jessica Kiefer
Tel: 317.602.7137
Fax: 317.536.3775
Email: jkiefer(at)bohlsenpr(dot)com
(When requesting a review copy, please provide a street address.)
# # #