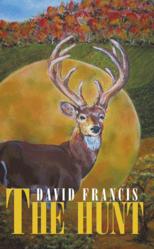 "The story is about getting back to the simpler times with family, neighbors, and small town living."
Annandale, N.J. (PRWEB) May 31, 2011
What are you hunting for? According to David Francis, we are all searching for something that is often unrecognizable.
In his new book The Hunt, Francis brings readers the story of Elmer, an old man who has lost faith in life. Without fearing death, the elderly man climbs the mountain of his youth in search of the great Whitetail buck. During his trek on Jenkins Mountain, Elmer relives memories from his past and sacrifices everything to succeed on his final journey.
The inspiration for The Hunt came from Francis' desire to go back to a place in time that no longer exists.
"The story is about getting back to the simpler times with family, neighbors, and small town living," Francis says. "It would appear that Elmer is going into the woods to hunt a deer, but this is merely a vehicle that is used to bring the man closer to the things that mattered most."
Emphasizing the journey that each person must take, The Hunt addresses the cycle of life and the natural beauty that is all around us when we search for it. Readers are placed in the middle of the story, assuming the role of the silent observer.
"The reader can use his or her own imagination and creativity to fill in the blanks," says Francis. "Hunting is as much about reflection of years gone by as it is about the present time."
For more information, visit http://www.dfrancisauthor.com.
About the author
David Francis learned at an early age to love and respect the great outdoors. His earliest memories are of hunting and fishing with his father and siblings. His love for the woods and the joy of storytelling provided his inspiration for this book. When he's not writing, Francis enjoys spending time with his wife and three children. An avid sports fan, he also enjoys baseball, football, fly fishing, and American history.
EDITORS: For review copies or interview requests, contact:
Jessica Kiefer
Tel: 317.602.7137
Fax: 317.536.3775
Email: jkiefer(at)bohlsenpr(dot)com
(When requesting a review copy, please provide a street address.)
# # #