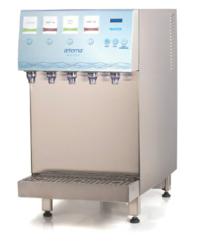 Rainbow Irys - the most innovative beverage dispenser on the market
Chicago, IL (PRWEB) May 27, 2011
Aeterna Waterwave™ introduced a revolutionary innovation to the HORECA market at the Annual NRA event with "RAINBOW IRYS", the first market-ready, fully customizable, still and sparkling water dispensing system serving "Flavored Waters on Tap." Aeterna won kudos from NRA professionals in the ultimate taste test of the exotic and subtle "Lychee" flavored water on tap, just one of 11 drinks available from this state of the art system.
Flavored and enhanced water is the fastest growing beverage segment in the industry and Aeterna gives HORECA a chance to pour its own profits "on tap" from this lucrative market.
Chicago's famed Palmer House will be the first to grab its share. F&B Director Mrs Deanne Kelly states "Our reputation rests on grandeur and tradition combined with the most forward thinking hotelier principals in the industry. That's why we chose Aeterna to provide both the classic and the avant-garde in beverage choices for the discerning international audience which graces our establishment."
Ecologically committed Aeterna Water solves a dual consumer need by offering a fresher beverage delivered on tap (still or sparkling) side by side with a "green" solution for abating the proliferation of plastic bottled beverages. Aeterna has pre-empted the market by fulfilling HORECA's wish list for top quality, unique product, high margins and eco-friendly systems.
Bravo's Top Chef Fabio Viviani has begun testing Aeterna's versatility for his famed Firenze Osteria's upscale clientele. "The bar and the kitchen are all clamoring for access to the broad range of exquisite beverages offered from Aeterna's Waterwave™. Uncompromising freshness and quality go hand in hand, and this is our trademark. Aeterna is at our side in fulfilling this commitment," declares Viviani.
With its sleek line of Italian designed dispensers suitable for all volume needs (40/80/120/220 liters per hour), the Aeterna systems surpass the cost and efficiency challenge of the competition. The entire system, including its renowned Body Glove filter, manufactured by 3M, is fully recyclable.
Aeterna's eco-friendly business culture proposes a superior, high quality product and a service that contributes to reducing plastic in favor of glass, eliminating waste and run-off water, reducing unnecessary energy for cooling, stocking, and transportation related to classic water systems, and performing all customer relations in a paperless environment.
About AETERNA WATER: Aeterna Water is a Florida based corporation bringing a revolutionary and ecological approach to water and water based beverages (still and sparkling) for hotels, restaurants, institutions, offices, retail environments and residences. Using state of the art technology, the Aeterna Waterwave Systems ™ respect the environment, eliminate the negative impact of traditional water in bottles and jugs, create zero waste water, have fully recyclable filtering, and obtain a competitive cost per liter over other forms of bottled beverages. Delivered and carbonated seconds before use, purity and freshness are at their optimum. Aeterna is a carbon footprint conscious business that is paperless, using digital media for all its transactions. A portion of its sales goes directly to charities such as the Surfrider Foundation that support environmental causes.
For more information contact:
A.T. & F. LLC
dba Aeterna Water
5151 Collins Ave, Suite CU-224
Miami Beach, FL 33140
T:1.866.866 water
E:info(at)aeternawater(dot)com
http://www.aeternawater.com
Aeterna Water and all Aeterna Water product names and logos are trademarks or registered trademarks of Aeterna Water or its subsidiaries in the United States and in other countries. Names of products from other vendors mentioned in this document may be trademarks or registered trademarks of their respective owners. Except for the historical information contained herein, matters discussed in this news release may constitute forward-looking statements that involve risks and uncertainties that could cause actual results to differ materially from those projected.
###